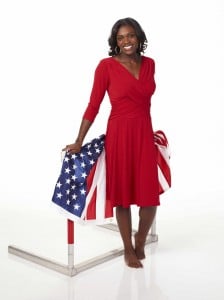 Dawn Harper shocked the world with a gold medal in the 100-meter hurdles at the 2008 Beijing Olympics. Still, she entered the 2012 Games with minimal hype for a defending champion. Much of the attention in the U.S., was still going to teammate Lolo Jones while the international press focused on Australia's Sally Pearson.
Add American standout Kellie Wells into the mix and you had the makings of one of the best races of the Games. And these women did not disappoint.
In a photo finish, Pearson barely edged out Harper for the gold. In fact, Pearson set a new Olympic record of 12.35 but was just .02 ahead of Harper's 12.37. Kellie Wells finished third with 12.48 while Jones was left off the podium again (she stumbled to a seventh place finish in 2008) with a solid time of 12.58. All three American runners have publicly confessed their Christian faith.
At first, Harper seemed disappointed with the result. But once she was interviewed, her appreciation for what she had accomplished started to kick in. It shouldn't be a surprise to those who know Harper best. As she stated in an Inspiring Athletes interview earlier this summer, since recovering from a knee surgery back in 2008, her purpose for running has always been greater than winning medals.
"There is another plan for me that I may not see for myself," she said. "I'm supposed to reach out to other people and show them what God can do because of what He's done through me."
Read more of that interview from Dawn Harper
And for more inspiring stories from the Olympics, check out Chad Bonham's book Glory of the Games featuring legendary athletes such as Shannon Miller, Josh Davis, Dave Johnson and Bobby Jones plus current Olympians such as Ryan Hall, Tamika Catchings and Hunter Kemper.