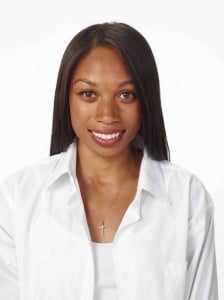 Wednesday was a watershed day for the U.S. Track and Field team. In four medal events, the Americans won seven of the possible 12 medals including three golds. Team USA was led by Allyson Felix who overpowered the competition in the 200-meter race with a time of 21.88. Her teammate Carmelita Jeter (who won silver in the 100-meter race) finished with the bronze.
In the men's 110-meter hurdles event, Aries Merritt (12.92) and Jason Richardson (13.04) finished one-two and added another gold and silver to the American medal tally.
Lashinda Demus, the favorite in the women's 400-meter hurdles got off to a slow start and nearly caught race leader Natalya Antyukh from Russia but fell just .07 short and settled for the silver medal. Antyukh's official time was 52.70 compared to Demus' 52.77.
In the women's long jump, the United States pulled off a slightly surprising finish with Brittney Reese taking the gold medal and Janay DeLoach sneaking into the bronze medal position on next to last jump.
To complete Team USA's big day, world record holder Ashton Eaton and teammate Trey Hardee dominated the field with outstanding performances in the first five events of the decathlon. Currently in first and second place in the standings, the pair will return on Thursday for the remaining five events and their attempt to complete the best American finish since Milt Campbell and Rafer Johnson claimed gold and silver at the 1956 Melbourne Olympics.
Not only did these athletes shine on the track, several of them also used the opportunity to share their faith with the world. Allyson Felix, Carmelita Jeter and Leshinda Demus are among a strong contingency of Christian track athletes representing the USA in London.
"I feel that my running is completely a gift from God and it is my responsibility to use it to glorify him," Felix conveyed through her website. "My faith also helps me not be consumed with winning, but to see the big picture and what life is really all about."
To read more about past and present Christian Olympians, check out Chad Bonham's book Glory of the Games featuring notable athletes such as Tamika Catchings, Kevin Durant, Laura Wilkinson, Josh Davis, Dave Johnson and Shannon Miller.