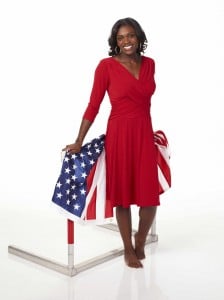 Growing up in a rough East Saint Louis neighborhood, Dawn Harper knows something about overcoming the odds. But her natural leaping ability and speed put her on the proverbial fast track to follow in the footsteps of another hometown hero—Jackie Joyner-Kersee.
While not many expected much from her in Beijing four years ago, Harper again defied the odds with a gold medal performance in the 100-meter hurdles and proved it wasn't a fluke by winning bronze at the 2011 World Championships.
In this Inspiring Athletes interview, Dawn Harper talks about growing up in East Saint Louis, how injuries drew her closer to God and how winning gold in 2008 proved to be an enlightening experience:
Chad Bonham: When you were growing up in East Saint Louis, how much of your journey as an athlete was influenced by Jackie Joyner-Kersee's legacy?
Dawn Harper: When I was working out at the track, she would come and visit all the time. I'll never forget the time that she came to me and said she saw something special in me and that I could go really far. So going through elementary, junior high and high school, Jackie Joyner was the known name
Bonham: We often hear about East Saint Louis and how tough it is to live there. Is that an accurate portrayal or is it sometimes exaggerated?
Harper: It was tough. I wouldn't say that people exaggerate about East Saint Louis. But it really depends on the parents and the way they raise their kids. There are just certain things you don't want you're kids around. There are certain neighborhoods in any community that might not be the safest, but for me, it wasn't as tough because my mom made sure I stayed involved in positive things and my dad was a positive influence in my life and he made sure I didn't fall into the trap of getting involved with the wrong kind of people. They also always told me that I had to have my grades right if I wanted to run track.
Bonham: When did you first get involved in track?
Harper: It was about the time I was going into the seventh grade.
Bonham: When did you start to realize that you had potential to go far?
Harper: I started to do hurdles in the eighth grade. That's when I realized it was something special for me. When I started running in seventh grade, it was fun and I liked it, but I usually the third place girl. Then when I started to run with the hurdles, the lightbulb came on and I was unbeatable. So my first year in high school, I ran at the state meet against the defending champion. She was a senior and I beat her and broke the record. So I realized, "Okay, I may be pretty good at this." That's when I realized I wanted to buckle down and do this for real.
Bonham: What led to your decision to go to UCLA?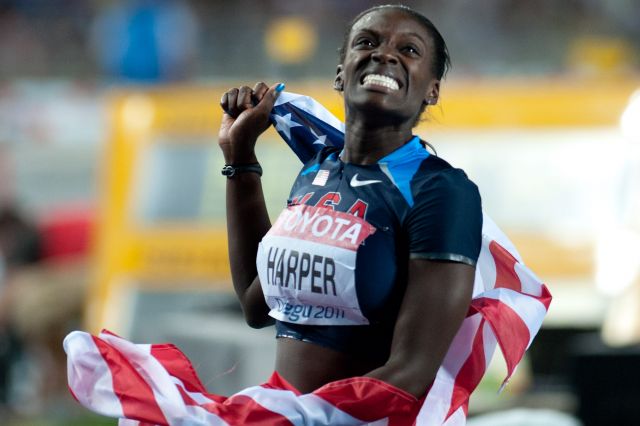 Harper: I don't know exactly how UCLA came into the picture for me but I think I was mostly looking for a place that had great academics and a great track program. I was looking for a school that had the overall picture. My mom really stressed to me that I needed to keep up my grades in case track didn't work out. And then when I went to visit UCLA, I was sold and they offered a full ride (scholarship) and that's all I needed. That's when I started hearing, "Well, that's where Jackie Joyner-Kersee went and she was great so maybe you can do it too." And I was like, "Oh Lord, what have I done to myself?" But it was good to have that (pressure) on me because I had to stay focused every day.
Bonham: How big of a role has Bob Kersee (Jackie's husband) played in your development as an athlete?
Harper: When I graduated in 2006, no shoe companies were offering me a deal. They offered me equipment but nothing that I could really live off. So Bob Kersee came to me and wanted me to keep my dream going. I didn't have money to pay him and I worked three jobs and he still coached me. He believed in me and told me everyday, "I believe you have this gift." And he gave me a hundred percent as a coach every time we were at the track.
Bonham: Tell me about your faith journey.
Harper: My faith was definitely a part of me growing up. I went to church on Sundays, but I knew that God was real in my life. A lot of people start to look towards God when they get hurt, and when I hurt myself as a sophomore and had knee surgery, the doctors told me I would probably never run as fast again. I was only 15 years old and track was what I wanted to do. So when I came back from that, I realized there must be a bigger plan for me. And then, when I had knee surgery before the (2008) Olympics, that just sealed the deal. I was thinking, "There is another plan for me that I may not see for myself. I'm supposed to reach out to other people and show them what God can do because of what He's done through me." I knew that it was all about giving God the glory. And once I crossed the finish line, that's the first thing that crossed my mind. A lot of people call me the "What" girl because once I won the race, you can watch the footage and see that I'm saying "What" over and over again. But what I was saying, was that from this big ole globe, God chose this little girl from East Saint Louis out of all the kids who have said, "I want to go to the Olympics." He knew that I could handle this—the knee surgery and all of the things that come with being an Olympic champion. He took the girl that no one thought would win. He chose me. He entrusted me with this. And after the race, I just broke down crying.
Bonham: When you won the gold medal, it seems like the coverage focused as much on the fact that Lolo Jones lost as it did on you winning. How did you deal that interesting dynamic?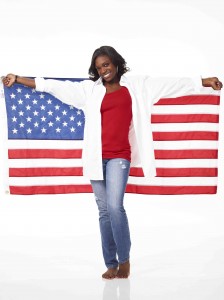 Harper: I didn't think much about it in the moment. But once I crossed the finish line and took my victory lap, it pretty much became reality during my interviews. The first thing they asked me was, "Did you see Lolo Jones hit the hurdle?" And I was thinking, "If I saw her, I would hit my hurdle." Then they started to ask things like, "Where are you from?" I had made it to the finals. If someone makes it to the finals, don't you think you should know a little about them? Because obviously they're capable of being the best in the world. So they were asking, "Where are you from? Who is your coach?" And I remember one reporter was interviewing me and he looked down at his notebook and there was nothing on the page. So he just said, "Tell me about yourself." But that's where I really thanked God because no man can determine my journey. You don't have to know me because I'll make your know me.
Bonham: Are you feeling more pressure this time around as the defending gold medalist?
Harper: Definitely. It's different this time. You have your own expectations and your coaches have expectations. But now I have a shoe contract and you feel the pressure of knowing that no one has ever won back-to-back gold medals in the 100-meter hurdles. Now I have that hanging over my head. Is it even possible? But what I want to keep reminding myself about is the love that I have for this and that I'm capable.
Read more about the Summer Olympics in the July edition of Charisma Magazine.
And check out Chad Bonham's latest book Glory of the Games that features 18 past and present Olympians such as Shannon Miller, Tamika Catchings, Josh Davis, Ryan Hall, Dave Johnson, Ruth Riley and Kevin Durant discussing various biblical principles that have helped them succeed as elite international athletes.