Kevin Durant isn't looking ahead to the 2012 Summer Games in London. He's a little busy right now leading the Oklahoma City Thunder through the NBA Playoffs. But in a matter of weeks, the NBA scoring champ will be getting his first shot at Olympic glory.
As we think ahead to what Durant and his NBA superstar friends might be ready to accomplish, Inspiring Athletes is taking a look back at a conversation with Durant where he talks about humility, family and faith:
Chad Bonham: What was it like playing in the 2010 World Championships?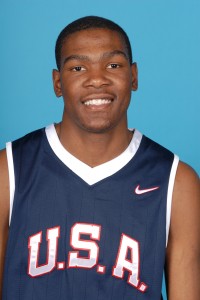 Kevin Durant: It was an unbelievable feeling; first of all, to play for your country, and to represent your country and your family, and the city and the state that you come from. Words can't explain how excited I was when the gold medal game was over and we'd won. It felt like we'd won the NBA championship. It was a great feeling to represent everyone here in the USA and to come together with that group of guys and do something that nobody thought we could do with the team we had.
Bonham: What is the foundation of your strong faith?
Durant: It comes from my family. I went to a Christian school. I was always intrigued simply about how we got here. Why do we do the things we do? Who made us like this? My mom always sat me down and talked to me and I have spiritual teachers that help me out. I'm not perfect at all by any means. I've got a long way to go to become closer to the Lord but hopefully I can continue to stay on the path. I might take a few steps forward and take a couple steps back and take some steps forward, but I want to get better.
Bonham: How has that progressed over the years?
Durant: When I was young we went to church a lot but we didn't go as much when I grew up and got into middle school and high school. There's no excuse why I don't go as much now. I should go more than I do. But in my defense a little bit, I go to chapel before every game and I have a spiritual coach I talk to and he's helping me out a lot in my walk with the Lord. My teammates here do a great job too sticking together and always praying for each other. I always try to get better in my walk.
Bonham: I've heard from some teammates and others around the organization that the players really follow your lead, particularly when it comes to attending game day chapels. Is that something you consciously promote?
Durant: It wasn't even me that started that. It was (former teammate) Kevin Ollie. He's unbelievable. He got everybody going and wanting to learn more. I was just one of the guys who was trying to follow his lead. He was a big teacher in helping me do that and making me feel more comfortable in my faith around other people and being able to pray for other people and pray out loud and things like that; take those baby steps. I've been trying to do a better job.
Bonham: Are you encouraged to see a greater number of Christians—guys like Derek Fisher, John Salmons, Michael Redd, Kyle Korver and Blake Griffin—becoming more vocal about their faith?
Durant: It's unbelievable to know. It's good to see other people walk with the Lord too. We do so much in this league. A lot of people don't know how they got these gifts and how they're portraying them on the floor. It's always good to let people know where all this stuff came from. To see other players in the league doing the same thing is a joy.
Bonham: People always talk about how down-to-earth you are. What's your secret to staying humble in a world where it's all to easy to get caught up in the hype of fortune and fame?
Durant: It's tough man. I can't lie. I can't lie about that. But I always kind of pinch myself and say that any day this can be gone. In the Bible, (it says) the Lord exalts humility and that's one thing I try to be all the time—when I'm talking in front of people or when people tell me I'm great, I (remind myself that I) can always be better. I always work on what I have now. I've just got to be thankful to the Lord for what the gifts He's given me. My gift back to Him is to always be humble and to always try to work as hard as I can. I've got to continue to be that way. I know that if I try to get a big head, my mom is going to do a great job of bringing me back down to size. I have the best of both worlds with the coaches we have here and my parents and my family doing it back at home. I'm in pretty good hands
Read more about the upcoming 2012 Summer Olympics in the July issue of Charisma Magazine.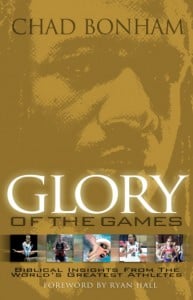 And check out Chad Bonham's latest book Glory of the Games that features 18 past and present Olympians such as Kevin Durant, Shannon Miller, Tamika Catchings, Josh Davis, Ryan Hall and Dave Johnson discussing various biblical principles that have helped them succeed as elite international athletes.
You can also find a wealth of great information about the Olympics and the US Olympians by visiting NBCOlympics.com and TeamUSA.org including photos, videos, bios, news stories, results and much more!