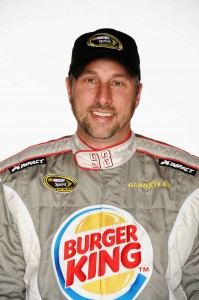 Unless you're an avid racing fan, you might not be able to randomly identify David Reutimann as a NASCAR veteran. On the surface, he comes off like an average guy from Florida's central Gulf Coast. But behind whatever fire suit he might be driving any given week beats the heart of a highly competitive driver who has won in all three major NASCAR series (Sprint Cup, Nationwide Series and Craftsman Truck Series).
Reutimann is noted for his time with Michael Waltrip Racing (which ended last season) and his legendary dirt track racing father Buzzie Reutimann who is still winning races in his 60s. Most recently, he picked up a part-time Cup ride spelling Danica Patrick in the #10 Tommy Baldwin Racing Chevrolet and a limited schedule in the #92 Ricky Benton Racing Chevrolet in the Truck Series.
Even as he works his way back up to the consistent presence he enjoyed for a solid five years, Reutimann remains the same affable and approachable guy he's always been. And his candid nature makes for some interesting responses to questions about his Christian faith. In this Inspiring Athletes interview (which took place about a month before he lost his job at MWR), Reutimann talks about his earliest influences, what he's learned from some of the sports' greats, and the minefield he walks as an openly professing believer in Christ:
Chad Bonham: I've always found it interesting that you worked for UPS some early on in your career and later on raced in the UPS car for a while.
David Reutimann: I was raised around a racing family and you always had to do what you could to be able to race. Anything you did to bring in any extra money was so you could go race. I worked as a jumper for UPS during the offseason. I realized right away that I couldn't eat if I wasn't making enough money racing. I figured I'd better do something.
Bonham: How did your dad influence your career and what did you learn from him?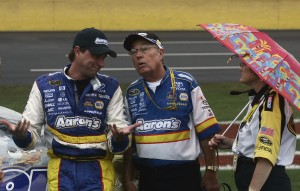 Reutimann: My dad was a huge influence because I grew up around racetracks and watching my dad race. I was a part of his career, watching victory after victory and how the fans would react to him. In the beginning and still now, I was never racing to be like Richard Petty or David Pearson or Dale Earnhardt or any of those guys. I was racing to be like Buzzie Reutimann because I wanted to be like my dad.
Bonham: How important is it for you to be able to say that you worked you way up through all of the lower series before getting your chance to race at the Cup level?
Reutimann: For me it's very important. It wasn't a situation where I ended up here because of money or anything like that. I was fortunate. I was blessed. I was in the right place at the right time for a lot of good situations and I had a lot of people help me. That's the main thing I had going for me. It's important for me personally because when good things happen, I feel like I worked really hard to get to that point. But I didn't do it alone. I had a lot of good people help me along the way.
Bonham: What have you learned from rubbing shoulders with some of the legends of the sport such as Dale Jarrett and the Waltrips?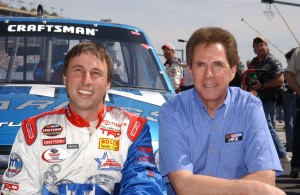 Reutimann: I've learned a lot from everybody. The first guy I ever drove for was Darrell Waltrip. I learned a lot from him. DW has that old school mentality and (teaches you) those things you do in your mind to help you throughout a race. Joe Nemechek was one of the first guys to give me a shot. He taught me a lot as well. Dale Jarrett is such a class act on and off the racetrack. Being around Michael has taught me about dealing with the public and dealing with sponsors because he's so good at that. It's an honor to even drive some Nationwide races for Rusty Wallace and guys like that. These are guys you watched on TV and you never thought you'd have the opportunity to shake their hand and you end up working with them.
Bonham: Is your first win at Charlotte and the crazy circumstances that surrounded that race (it was shortened by rain) still a major highlight of your career?
Reutimann: The Coca-Cola 600 was a huge win but I really feel like the Chicago win was the biggest win for me personally. We went out there and we just outran everybody. We had the best car and we ended up doing a good job of winning the race. That race sticks out more than the 600 does.
Bonham: Tell me about your faith journey.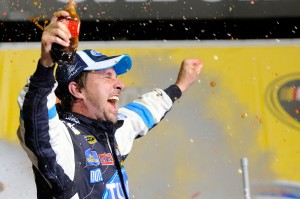 Reutimann: I stumble so much in everyday life. It's still such a work in progress. I should be a lot further along, quite frankly, than I am in that respect. I've got more work to do on that side than I've ever had to do career wise. Sometimes I just never seem to get it. Sometimes it's disheartening to see how bad you end up stumbling and saying things you shouldn't say and acting the way you shouldn't act. The thing about this business and being in the world in general is that there are so many negative things that can creep in. Sometimes your head just buys into that stuff. It's not the way you're supposed to do things. I don't think anybody should look at me as being the picture of Christian faith in racing because I'm still struggling every day. And I think a lot of people (struggle), which is kind of reassuring. But you can't make excuses. There is definitely a rulebook in front of you of things that you should do. It's been around a long time. It's even more structured than the NASCAR rulebook is and it's the things you should do and you shouldn't do. There's no gray area. In our rulebook, we have gray areas. In the Bible there's no gray area.
Bonham: But doesn't that make you a walking picture of God's grace?
Reutimann. Absolutely. If there's anything that's a walking, talking picture of God's grace and His forgiveness and His tolerance for the stupidity of mankind, I'm probably the poster child for that. I've been blessed in so many different ways and a lot of times you say things or you act a certain way and you think, "Man, I don't deserve any of this if I can't act better than that." Sometimes it a good reality check.
Bonham: What inspired you to put the cross on your car right next to your name?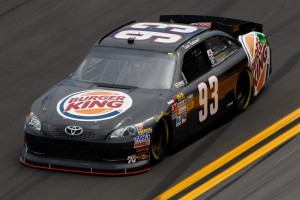 Reutimann: It's been a struggle for me personally to have that up there. If you're going to have that on your car, you need to do things a certain way. People look at that and say, "Listen to what he just said on the radio and he has a cross on his car."
Bonham: It's a double-edged sword.
Reutimann: Yeah, it is. It's just there for me as a person because that's one of the last things I see when I get in the car so I can try to remind myself what that's all about. But yeah, you're right. Sometimes it's a double-edged sword because I'm like, "Man, I went out there and acted like that on the race track." It's not always sending a very good message.
Bonham: Is MRO an important part of your life?
Reutimann: It is for sure. Let's face it, we race on Sundays the majority of the time and if it wasn't for MRO there would be no church. It's the only church we have and everyone knows that church is important. They do a lot of other things besides that, but that's the biggest role I think they have.
Bonham: Do you appreciate NASCAR's support of MRO and its openness towards public expressions of faith?
Reutimann: The fact that the whole organization embraces MRO and lets them set up shop and have free reign, I don't think you see many other organizations that let another group come in and have that freedom to do what they do, because they know how important it is.
Track David Reutimann's driving career by visiting his official website HERE.