Click "Like" to share this with your friends!
Derek Jeter hits 3,000th hit; talks faith on religious TV show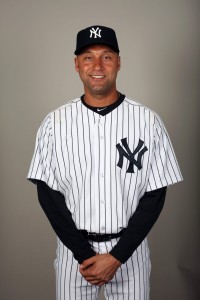 Today, Derek Jeter reached an amazing milestone by hitting his 3,000th career hit. That makes him the 28th player in MLB history to reach that mark. Even more amazing was the way he did it–hitting a home run in the Yankees' victory against the Tampa Bay Devil Rays and going 5-5 on the day.
Earlier this year, teammate Mark Teixeira hit his 300th career home run. You can read the Inspiring Athletes interview with Teixiera by clicking HERE.
Jeter is clearly one of the greatest players to put on the iconic pinstripes and is certainly headed to the Hall of Fame. But in an interview conducted with the TV show "Close Encounter," Jeter talks (albeit somewhat ambiguously) about the faith that guides him. It's an interesting interview to say the least as the co-hosts do their best to pull more out of Jeter than he seems willing to give up. Go to the 1:50 mark for the start of Jeter's segment on the show.