Click "Like" to share this with your friends!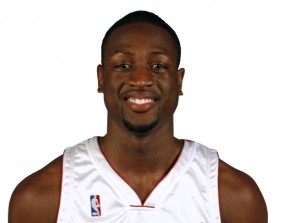 Dwyane Wade has NBA MVP talent. He's also experienced his share of NBA problems. In 2008, Wade went through a nasty divorce with his wife and mother of his two children. He had suffered through a broken relationship before when his parents split up leaving his older sister Tragil as his primary caregiver throughout most of his childhood.
Wade also went through the pain of seeing his mother go to prison for selling drugs while he was playing ball at Marquette. Since then, Wade's mother has experienced a significant spiritual turnaround and now pastors a church in Chicago (Wade bought a new building for that church back in 2008).
So when asked about his faith, Wade is quick to point out that he believes in Jesus and that His relationship with God has sustained him through life's toughest moments. In fact, he wears the #3 as an ode to the Holy Trinity.
I once had the opportunity to interview Wade via email but the story assignment never panned out. Therefore, his comments have been unpublished until now. Here's a look at what Wade had to say about the role faith plays in his life and why he adheres to the biblical principle of tithing 10 percent of his income to God:
Bonham: Why is it important for you to follow the Biblical principle of tithing to your local church?
Wade: I'm a firm believer in the Bible. I believe everything in there. I'm given so much, so giving 10 percent back to God is nothing to me. That's why I do it, and I don't think twice about it.
Bonham: How has your faith helped you deal with the unpredictable nature of the NBA lifestyle?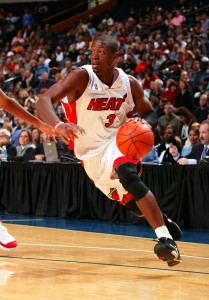 Wade: There are going to be good time and bad times. There are going to be people who love me and there are going to be people who don't love me. As long as you are real with yourself knowing that you're still human even though some people put you on a pedestal. I know that I have to be the same person no matter if people like me or not.
Bonham: What message do you hope to convey to young people that look up to you as a role model?
Wade: I try to tell kids that there are going to be people in your life that try to tell you that you can't do something. There were people in my life who told me that I couldn't make it to this point in the NBA. I believed in God, myself and my abilities to get to this point. Always believe in yourself no matter what anyone may say to you.
Bonham: What are some specific ways that you can impact the NBA in a positive way?
Wade: Being a positive role model to kids and to the community. That's what the NBA needs, more positive role models for kids. Kids need someone they can dream about becoming. I want to be that person now that I'm in a position to be a positive role model.
Check out some other hoops stories by clicking on the links below:
Kevin Durant dunks his own alley-oop
Dwight Howard bowls for charity