Walk around the garage area during any NASCAR Cup event and you'll almost surely run into the sport's most enduring (and perhaps endearing) figure. They call him "The King" but he'd assume you call him Richard. Whatever you call him, Richard Petty is arguably the greatest stock racer of all time with a record 200 races and seven Cup championships to his credit.
A few years back, I had the rare privilege of sitting down with a true legend—in his motor coach no less—along with son Kyle. So for today's entry, I thought you might enjoy what he had to say about changing times, why he's still in the game and what comes to mind when he hears the word "legacy."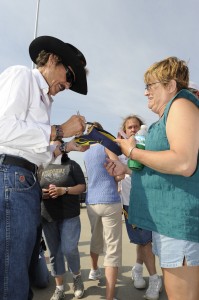 Bonham: What are some of the biggest differences between stock car racing during your era and what it looks like today?
Petty: I drove 32 years in Cup racing. I won seven Daytona's, seven championships, 200 races and took in a little over seven million dollars. The last two or three years, the champion has won eight or nine million dollars (in one season). I drove 15 years before our team made the first million dollars.
When we started, they were stock cars. Now they're racecars. But what did that was money and technology. The biggest change in the whole world has been technology. The technology has driven us and we've driven technology. You used to have three or four guys that worked on the whole car, built the motors, took it to the racetrack, pitted and all that. Now you've got specialists for everything. All businesses do the same thing. We're no different."
Bonham: Why have you stayed so connected to the sport since retiring from racing?
Petty: (Laughs) Try to make a living!
Bonham: But is it also partly because you still love doing it?
Petty: It's a combination. Circumstances dictate a lot of what we do. We're racing and we have an opportunity to do the Driving Experience. It fits right into our world. We're working now on the national sprint car league. That just fits right with this. We don't have to go into the car business or something that's completely different. Our little world is racing.
Bonham: What do you think when people call you "The King?"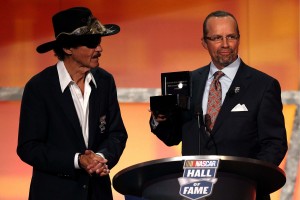 Petty: I don't pay any attention to it. My name's Richard. I've done my thing. I tell them a lot of times, "It's better to be known as that than some of the stuff people would really like to call you." They're always calling somebody something."
Bonham: What's the difference between finishing first or 43rd?
Petty: You can work hard, do everything that you think is right, but one thing you'll never overcome in life is fate. You can't control fate.
Bonham: Your son Kyle remains one of the most popular figures in the sport due to his work with Victory Junction Gang Camp. Where does his charitable spirit come from?
Petty: He grew up around his mother. She always had something going at the church or at the school. She worked for the PTA. She was a Scout teacher. She was in 4H. He grew up in it. He was able to get out and see how lucky we were to have the advantages in life. We worked for it, but we could go and we could do and we were all healthy. So when he goes out and he sees all of these other people, he wants to give back. Like I said, he learned it from his mother.
Bonham: How often do you think about the Petty legacy and what do you think that legacy represents?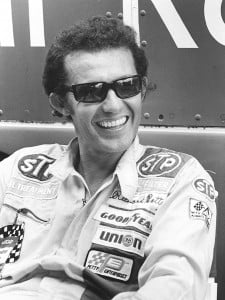 Petty: I haven't really ever gone there. We're doing our thing in our time under our circumstances. Hopefully, you leave a good taste in everybody's mouth and they remember the good. If something happened to us right now and we're not here anymore, we would hope that you would forget about the racing part and go to the camp, the things that we have left that will enrich other people's lives later down the road where racing won't. Racing will be history and that's what we happened to do, but (the camp) is what we left for the rest of the world. Your legacy's not going to last very long. The big deal is that you can get something started and then that part of it goes on, that's the most important part.
Bonham: So then what drives you?
Petty: Its just life. I look at it as life. When you get up in the morning, (you ask), "Can I do a little better than I did yesterday?" That's the challenge of not just saying the same. Can we make our business a little bit better? Can we help somebody today that we didn't help yesterday? Its just life.
Check back in tomorrow for an interview with Pittsburgh Pirates manager Clint Hurdle.