Hit "Like" to share with your friends!
GOOD WORKS WEDNESDAY: Davone Bess
When Davone Bess traveled to Costa Rica last month, it was the culmination of an unusually harrowing journey. Bess was raised by a single mother in Oakland and due to some bad decisions as a teenager landed in juvenile detention where his future looked bleak.
But that wake up call prodded Bess, now age 25, to make a change and now the Miami Dolphins wide receiver is looking to turn his hard luck story into a challenge for kids and teens here in the United States and as a personal motivation to impact the lives of others across the globe.
In this conversation with Bess, I asked about his trip to Costa Rica with Global Volunteers, his belief in God's purpose for his life, and the inspiration behind the Bess Route Foundation and how it's making a significant difference in the lives of young people:
Bonham: What inspired you to make this trip to Costa Rica?
Bess: With our foundation being in place, we just want to go around and try to help as many people as possible. We've always had the vision of taking the time to put others before ourselves and to just make a difference in this world. This was actually my first time out of the country. My trainer (and foundation director) Chris (Kidawski) had been telling me the amazing experiences he's had every time he's been out of the country meeting new people and learning different cultures. So we decided to make the trip with Global Volunteers. We got our flights and next thing you know we were in Costa Rica helping the people in a small town called Canitas near Monte Verde. It was an unbelievable experience.
Bonham: What were some of the projects you helped with there?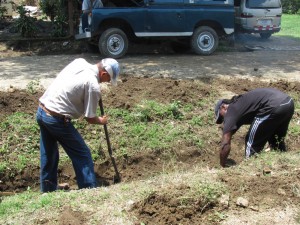 Bess: We did numerous things. We started off digging drainage ditches for the community. They're trying to prepare for the rainy season as fast as possible. These ditches were about 200 yards long. It was fun. I love being hands on. I really enjoyed working and helping the community.
Chris and I were on the side of the community center with machetes and chopping down trees to help make the facility look more presentable and a lot cleaner. That was a lot of fun until we got attacked by these black flies. Those things sting! When those things come after you, they come after you. We started messing with the wrong tree and they started coming after us. But it was all good. We ended up finishing the trip up with some grouting and tiling in the kitchen and the snack area.
One our last day, we had an exiting party. I'm sponsored by Adidas so they sent me a bunch of equipment—10 soccer balls, five American footballs, 50 pairs of shoes for the soccer team. The team there happens to be really good but they don't have any of the proper equipment. We also brought down a couple of rice cookers and an extra skillet for the team to cook with when they travel to other villages. We brought them a heart monitor for their health post, which is something the community didn't have at all. That was very important.
We had a great experience. We completed a lot of projects and we got the full hands on experience of being able to help people in another country that were very humbled by us being there but very appreciative at the same time.
Bonham: One there was one particular moment that you'll take with you for the rest of your life?
Bess: Just the experience itself. You're asking me to pick one thing and it's hard to explain. You've got to witness it and see it visually. My best memory is just playing with the kids. They were so happy. The first couple of days they were distant and standoffish because they didn't know who we were. But after a while we started eating with the families and we were welcomed into their homes. The kids started to embrace us more. They'd hang around us. Come morning time when we'd drive in to work, we'd see kids waving at us while we were in the van. It was very special. It was very exciting to see the smiles not only on the kids' faces, but to see the parents and the leaders in the village. It was a great experience.
Bonham: How challenging was it to see people living under such less-privileged circumstances?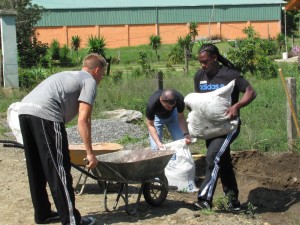 Bess: It was a very humbling experience because you see some of the things these people have, some of the equipment they use and everything is so outdated. We're so fortunate here in the United States. We're very blessed to have a lot of the materialistic things we have. I grew up without much. I've always had to work for everything I wanted. Even with my experience, I had a lot growing up compared to what these kids have. You see some of the toys and the soccer balls that these kids were playing with. You even see some of the homes you see these people live in. If those homes were here in the States, people would be tearing them down. They'd be bulldozed because we wouldn't think anyone could live in those conditions. But the people are very thankful and very happy.
One thing that caught my eye was the longevity of life out there. So many people out there, especially in the Monte Verde region, you'd see a lot of elders just walking around. The streets aren't even paved. They have dirt roads with gravel and rocks and potholes all over. We'd see these 80-year old women walking down the street. Everyone is walking everywhere you go, rain or shine. You see kids and moms. One of the coolest things I saw was a lady on a dirt bike. And this is normal. The lady was on a dirt bike with her son on the front and her daughter on the back. She was dropping her daughter off at school. It was just their lifestyle.
Bonham: How does this experience reinforce your belief that God has a purpose for your life?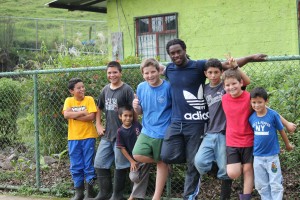 Bess: I just feel like God works in mysterious ways. I don't like to rub people the wrong way and say that I'm this big spiritual guy. I believe in God. I believe in a higher power. And I do believe that God works in mysterious ways. In my story and in my situations and in all the hurdles I had to overcome, I just feel like me being able to go down there and help those people and try to impact their lives in a positive way is God blessing me with the ability to go down there. In one way or another, me and you and anyone who is reading this can say that if it wasn't for some person or some group, you wouldn't be where you're at today. I'm a true believer of keeping that train and that cycle going of always giving back because we've all needed help in some way. So this is just my way of giving back and then taking something out of the experience. I've learned that life is very precious and we can't take things for granted.
Bonham: How has your difficult past taught you appreciate what you have now and the opportunities you have to help others?
Bess: There's not a day that doesn't go by when I don't thank God for where I'm at today. Eight years ago, my life was almost over. Just me having the faith and believing and just having hope, I prevailed. I've always had a plan B and a plan C if plan A didn't work. Me having this option made me want to have a foundation so I could not just make a difference in the local community but in the world. That's our mission—to slowly but surely make a difference. I know it sounds cliché but Chris and I talk about it all the time. That's the best satisfaction we can get when you go home at the end of the night knowing you helped somebody else become more productive.
It's a humbling experience when you know you've almost had everything taken away from you. So I try to advise kids that they don't have to go the same route I went. I try to get them while their young because the kids are our future. If we can change them, we can change the world.
Bonham: What is the Bess Route Foundation doing on a daily basis to get that message out?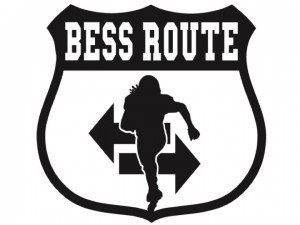 Bess: We do a lot of charity work whether its in my hometown of Oakland or Hawaii which is where I played college ball or South Florida where I'm currently residing. I got to a bunch of middle schools and high schools and I talk to kids about my story about what I've been through and about hopes and dreams and helping them understand that if you put yourself around people that want to be productive, that want to make the most of what they have, then the sky's the limit. But if you want to deviate and go the other route, there are consequences that come with it. I'm a living example of those consequences. I just feel like I connect with the kids so much. They hear me out and they understand it because I've witnessed it.
In the fall, we're going to start a program in South Florida that will take 20 kids from local high schools. We're going to take those kids to the local middle schools and elementary schools and we're going to give them a packet. We're going to talk to them about the importance of not having an ego and the importance of having self-confidence. We're going to mentor the high school kids and the high school kids are going to mentor the elementary and middle school kids. It's our way of trying to make a difference. If we can get kids to mentor kids, we'll be moving in the right direction because that's where a lot of our problems come from.
Bonham: How has your faith become more defined over the past few years as you've grown spiritually?
Bess: I grew up going to church. I've been baptized. I am a Christian. I believe in God. I believe in Christ. But when I say I don't want to rub people the wrong way, that just means I don't go around telling people what they should or shouldn't believe like, "Oh, you shouldn't be a Baptist" or "You shouldn't be a Catholic." Everybody is entitled to their own religion and their own opinion. I'm not saying I'm perfect and that I don't make mistakes. But I do believe in a higher power and I do believe that everything happens for a reason. We're not on Earth by accident. Things don't happen in your life for no reason.
Bonham: In a strange way, has not having football during the lockout been somewhat of a blessing in disguise?
Bess: That's exactly why I say I believe in a higher power and how everything happens for a reason, even to the extent of Chris moving out here. He just moved out here and we put our heads together and one idea led to another and the foundation is taking off in unbelievable ways. If Chris hadn't come out here to train me in the beginning, we may not have went on this trip. I didn't know anything about it until he told me about the organization. Everything happens for a reason and the lockout gives us more time and opportunity to help other people. But hopefully we can get something done soon because I'm missing football a lot.
Bonham: Why is so important for athletes to embrace the concept of serving others?
Bess: It's highly important that we as professional athletes or celebrities or whatnot get involved in the community and try to help make a difference. Believe it or not, and I hate to put it this way, but we have a lot more influence over some of these kids than their parents have because they see us on TV and look up to us. So we can make a huge impact. We can be that difference maker just because of our status and because of what we do. I would advise all professional athletes to get involved and to try to help make a difference. If we don't, who else will?
Join us tomorrow for a special Inspiring Athletes featuring a conversation with iconic NASCAR legend Richard Petty.