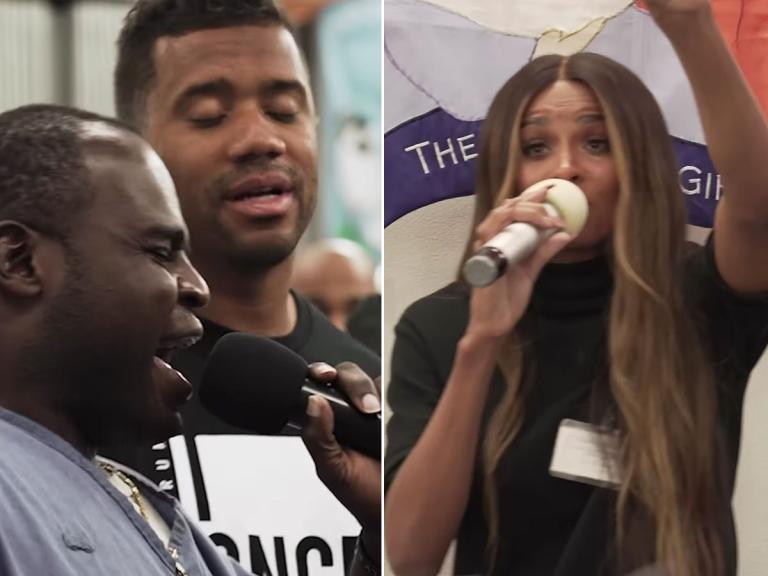 NFL quarterback Russell Wilson and his wife Ciara recently spent time inside a maximum security prison, dancing, singing, and reading Bible verses with over 300 inmates in hopes of spreading joy.
According to a video shared on Instagram, the couple teamed up with the organization God Behind Bars to visit Everglades Correctional Institution in Florida to hold an event with the inmates. The Instagram post's caption read, "27 incarcerated men gave their lives to Jesus inside of a maximum security prison. The 34-year-old quarterback also recited a Bible verse to the inmates that encouraged people to forgive past indiscretions and think positively about the future.
Russell also posted a video clip of the prison worship service to Instagram, writing, "Lord, there's nothing better than YOU!!! Over 300 Maximum Prison Inmates worshipping Jesus! His Grace and Spirit are overwhelming in the midst of mistakes. He still loves and forgives." Wilson added, "For God did not send His Son into the world to condemn the world but to save the world through Him. John 3:17 NIV."
After Wilson's reading, the organization said the prison chapel erupted with praise and worship. The caption continued, "The voices of the incarcerated were so loud, it felt like the entire prison could hear it. In a place so easily filled with so much division, there was a moment where Incarcerated men put their arms around each other and prayed for those struggling with anxiety and depression."
View this post on Instagram
Ciara also spoke to the inmates about God's unconditional forgiveness and love before singing "Waymaker," a worship song by Nigerian singer Sinach. She said, "You know what's so beautiful about God's love? It's relentless. He doesn't let off. And you know what I love about God and what He said in His promise? There's no condemnation in Jesus Christ. So, if you ask for forgiveness, He will forgive you. My heart is filled with joy."
Since 2009, God Behind Bars has worked to restore the lives of inmates by building their faith during incarceration and after their release. The ministry currently has 15 prison church campuses located in 15 states across the country. CBN News reported that God Behind Bars saw more than 450 inmates baptized in 2022. God Behind Bars said at the time, "Jesus is moving in POWER!" after the number of inmates accepting salvation has more than quadrupled since 2021.
God Behind Bars also helps inmates return to society by assisting them with finding jobs, housing, and education opportunities. They help them reconnect with family and friends with the support of volunteers from local churches. God Behind Bars created the first Christian app for prisoners to stream sermons, worship music, and God's Word.
The ministry created Pando in January 2021, an app allowing inmates to stream Christian content using a prison tablet. Pando is also free to download on Google Play and the App Store, so inmates and their families can watch the same material. The Wilsons' visit to a maximum security prison shows us that God can save and forgive anyone, even a prison inmate.