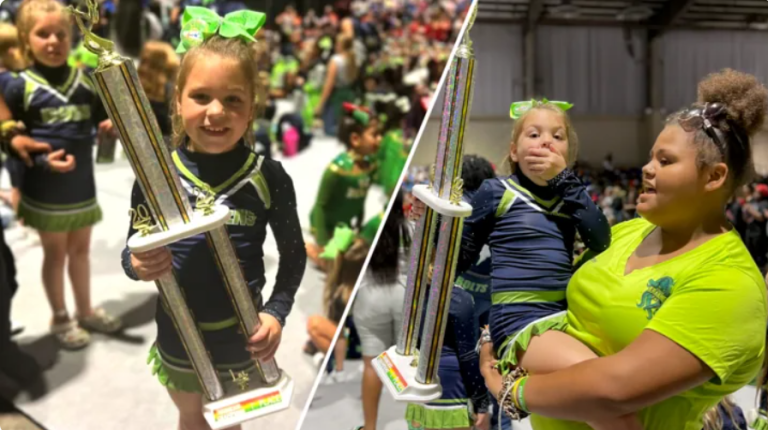 An 8-year-old girl performed at a cheer competition alone when her team didn't show up and won first place. Peyton Thorsby said, "I was scared about everything, and I was very nervous." Peyton performed her routine by herself in front of a few hundred people at the Showcase of Championships cheer competition at the Florida State Fairgrounds when her team didn't show up due to other commitments or illness.
Her mom, Nichole Thorsby, told FOX 13, "Nobody had come for whatever reasons they had had, and it ended up just being her that had shown up, so her coach, Nikki, said, 'look like we might have to forfeit.'" However, Peyton didn't want to let her team down, even though they didn't show up. She ended up beating out two other groups, winning first place.
Peyton said, "I didn't really want my team to be disappointed in me for not going out there and not showing up for them, and so I made my decision. I wanted to go out there, and I wanted to make my family proud and all my friends proud for myself.'
Her mom said, "Me and her coaches were just crying our eyes out. I just couldn't believe it, but just to see her out there on her own. She's amazing." Peyton hopes her performance encourages other kids not to be scared. She said, "Jesus told me to be brave, so I just went out there and was brave and got the trophy."
Peyton's solo performance made headlines not long after Katrina Kohel, a 17-year-old senior at Morrill High School, also performed her cheer routine alone at the Nebraska State Cheer and Dance Competition. Katrina Kohel, a senior at Morrill High School, completed a one-girl show at the Nebraska State High School Cheer and Dance Championships in February.
She was informed her teammates couldn't make the competition just a few weeks beforehand. Kohel's rivals were so moved by her grit and determination she ended up receiving the biggest cheers of any competitor. She also performed well with the judges, who gave her a higher score than her team had managed to attain during its previous three appearances at the tournament.
As she threw her pom poms from side to side and jumped in the air, she overjoyed fans, including fans from other teams, her competitors, and her grandparents. The rest of the family was in Omaha watching her twin brother compete in the state wrestling tournament.
Kohel appeared ecstatic with her performance saying, "I probably had the loudest crowd involvement there. Everybody was cheering with me, and it was an amazing feeling." After her competition, the MHS Lions posted on their Facebook how proud they were of her on a 'job well done,' and how she represented the team with 'pride.'