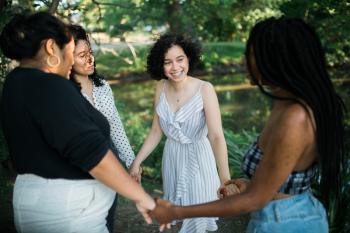 Women have made extraordinary contributions to the world, and a lot of the liberties and pleasures we couldn't imagine life without would not have been possible without them. History has shown us that women's achievements are often overlooked, which is why it is important that we continue to honor their legacies.
Take a look at 10 innovative creations by women.
The Ice Cream Maker by Nancy Johnson
Next time you open your freezer to grab that pint of mint chocolate chip ice cream, be sure to remember Nancy Johnson who patented the first design for a hand-operated ice cream maker. Until 1800, ice cream was a rare dessert enjoyed mostly by the rich. Johnson's hand cranked ice cream freezer brought ice cream to the masses, making it possible for everyone to make quality ice cream.
Computer Programming by Grace Hopper
If you look at everything in life that stems from computer programming, it's incredible that the first person to create computer programming was a woman. Grace Hopper, along with Howard Aiken, designed Harvard's Marl I Computer. The five ton , room sized machine translated written language into computer coding. Can you even imagine what life would be like without this invention? You most likely wouldn't be online looking at this article. Thank you Ms. Hopper!
The Dishwasher by Josephine Cochran
Surprisingly enough, the design for a dishwasher existed prior to Cochran's design, but of course it took a woman's touch to create a machine that actually washed dishes. Her design was the first to use water pressure to clean dishes rather than scrubbers to remove debris.
The Car Heater by Margaret A. Wilcox
If it wasn't for Margaret Wilcox, those cold and frosty morning drives to work would be brutal . Wilcox was one of the first female mechanical engineers who created the first car heater system. The system redirected air that was over the engine to the inside of the car to keep people warm. How clever is that? Her simple concept of a car heater became the foundation for modern car heaters.
Wireless Communication by Hedy Lamarr
Hedy Lamarr was an Austrian born movie star turned inventor who is credited for developing a device that synchronized a miniaturized player-piano mechanism with radio signals. After fleeing Nazi Germany, Lamarr was unable to communicate with her husband and started learning about radio controlled signals used in military operations. She discovered that an un-trackable frequency hopping signal could help radio controlled weapons from being set off course. Lamarr patented frequency-hopping which is enjoyed by the world today as Wi-Fi, Bluetooth and GPS.
The Home Security System by Marie Van Brittan Brown
After noticing an increased amount of crime in her neighborhood, Brown and her husband filed a patent for a household closed-circuit-television security system. Their system had a camera at the front door that would broadcast images to a household television set. The system included two-way communication functions and a remote switch to unlock doors. The security system also featured an alarm that users could push to notify a nearby security system. Because of Brown's innovative invention, we can feel safe and sound in our homes.
Rock and roll from Sister Rosetta Tharpe
Some of our favorite music artists and genres wouldn't be what they are today if it wasn't for Sister Rosetta Tharpe. Known as the "Godmother of Rock and Roll," Tharpe created a unique sound by combining gospel music with urban blues, and traditional folk. Many musical legends such as Chuck Berry, Elvis Presley, and Johnny Cash were influenced significantly by Tharpe's musical style. She was also the first ever recording artist to use heavy distortion on the electric guitar.
Windshield Wipers by Mary Anderson
Driving in the rain wouldn't be nearly as possible if it weren't for Mary Anderson's invention of windshield wipers. After experiencing difficulties driving on a snowy day, Anderson developed a hand-operated tool to help keep her windshield clear. She was granted a patent for her invention in 1903, calling her invention "a window cleaning device."
The Chocolate Chip Cookie by Ruth Graves Wakefield
A world without chocolate chip cookies is unimaginable, so it's only appropriate to worship at a shrine complete with a picture of Ruth Graves Wakefield. She owned the Toll House Inn, a widely popular restaurant known for its home cooking in Whitman, Massachusetts. After noticing her customers enjoying her thin butterscotch nut cookie, Wakefield decided to try something different and added chopped up bits of an Nestle chocolate bar into a cookie.
The Belted Sanitary Napkin by Mary Kenner
Mary Kenner came from a family of inventors, so she was destined to be a successful inventor. Her moisture-proof napkin pocket invention was rejected by companies at first because she was an African American woman. The invention itself wasn't used until 30 years after she invented it. She eventually saved up enough money to get her first patent on the sanitary belt in 1957.