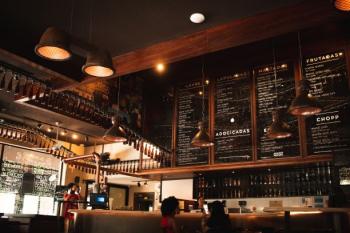 As businesses continue to close in response to the COVID-19 pandemic, restaurant workers everywhere are faced with worrying about how to supplement their incomes. One customer at an Ohio Sports bar surprised staffers with a remarkably kind gesture that would help ease some of their worries.
After racking up a food tab just under $30, the customer paid for his food and left. But when the owner picked up the bill, no one was prepared for what would come next.
The customer left a tip for $2,500, with instructions to split the tab equally with servers at the restaurant.
Completely blown away by the gesture, everyone in the room shed tears of joy, expressing deep gratitude for what the man did. The customer asked to be kept anonymous, but the owner said he was a weekly regular at the sports bar.
"You go to the store and we have people fighting over toilet paper," the bar owner said. But in this case, the customer showed that it's not the "every man for himself" mentality that will get us through this time, but offering a hand to those who are struggling.
The servers listed on the tip decided instead of dividing the check among the five of them, they would equally divide the check with all of the workers at the bar. Many restaurant workers rely heavily on the tips from customers to provide meals for their families and keep roofs over their heads, so the unexpected shutdowns are life changing.
The pandemic will continue to force business across the country to close down, which means a lot of people will be left without work. With so much uncertainty revolving around how long these shut downs are expected to last, millions of people will struggle to make ends meet, especially those in the hospitality industry.
As the coronavirus continues to disrupt the livelihoods of people worldwide, it's actions such as these that remind us just how far compassion can go.