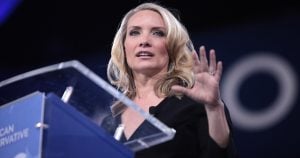 Philippians 4:13 reads, "I can do all things through Christ who strengthens me." It is a popular Bible verse, and it is commonly recited by athletes or worn on their shirts, hats, jerseys or shoelaces. It is also the favorite verse of Dana Perino, the woman who served as press secretary under President George W. Bush and launched her own business following the end of his presidency.
Perino has stated that she reminds herself of the verse almost constantly. She recites the 10 words when she is angry, a faith-based twist on counting to 10, and counts repetitions with her personal trainer by silently reciting the passage.
"I've done this probably since I was 23," Perino said. "It comes up over and over again."
Perino's focus on faith, however, goes much farther back than her early twenties. She was extremely religious even when she was young. As a child, her Sundays were spent discussing current events with her father and worshipping God.
"My sister always wanted to go to the late service, because she wanted to sleep," Perino said. "I always wanted to go to the early service because that meant we could do that, and Sunday school, and still get home in time for 'Meet the Press.'"
As Perino aged, she continued to focus on both politics and her faith. The former would eventually become her career, but it was the latter that would keep her grounded during both life's inevitable trials and the difficult times of Perino's own making. Her years as a graduate student, for example, were initially unpleasant. There was not a specific issue, but Perino was miserable regardless.
"I just wasn't happy," she recalled. "As humans, we try to fix everything ourselves. And when I remembered to surrender and to pray and turn my worry over to a higher power, that's when I felt so much better."
Perino later refined the idea of surrender into a simple, five word mantra. Do not worry too much. She wishes she had learned that lesson earlier, but it remains the number one piece of advice she gives to young people. It is also, appropriately, linked to another one of Perino's favorite Bible verses, Matthew 6:25. The passage reads, "Do not worry about your life, what you will eat or drink; or about your body, what you will wear. Is not life more than food, and the body more than clothes?"
"When I read that [verse in a daily devotional one] morning, I thought, 'Who am I to worry?'" Perino said. "Imagine if you were a Syrian refugee right now. This verse might feel very hard to stomach."
The difficulty dealing with some verses that are meant to be comforting is a situation that Perino has seen repeatedly through her charitable work. After accompanying Bush on a trip to Africa in 2008, Perino developed a serious interest in directly helping others. She ended up going on a number of mission trips to Africa and working with Mercy Ships, a Christian nonprofit that turns retired ocean liners into floating hospitals.
"When we go there," she said, "you really can feel the hand of God."
No matter where she is or what she is doing, Perino always finds a way to see God acting in the world. Given that she currently serves as the anchor of "The Daily Briefing," co-hosts "The Five" and hosts "Dana Perino's Book Club," she is certainly in a good place to keep an eye on various events and look for His influence. Just as in her childhood, her days are filled with faith and politics,and Perino seems perfectly happy to keep things that way.