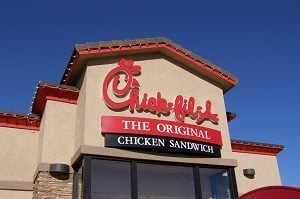 Chick-fil-A is known for their customer service and Christian values. They are consistently one of the top ranked fast food chains the United States and are always closed on Sundays as per their Christian culture. One Chick-fil-A in North Carolina, however, broke that policy in order to more fully live up to the company's values.
Much of North Carolina was battered by Hurricane Florence, and emergency personnel have been working around the clock to help those in need. The Chick-fil-A in Triangle Town Center in Raleigh, North Carolina decided to pay back those who were doing so much for their town. As such, the restaurant opened its doors on a Sunday and fed emergency personal helping with recovery efforts for free. The Chick-fil-A gave away over 500 sandwiches and more than 1,200 nugget orders to rescue teams who had come from five different states to help their fellow Americans in their time of need.
The restaurant used their food and service as a way to thank those who risked so much to help their community. The Chick-fil-A also, however, recognized those individuals who made the entire event popular: the employees who came in to work on a day they normally had off. The Chick-fil-A posted a picture of the employees on Facebook and said, "Grateful for an AWESOME team that not only have hearts for serving our guests every day but have hearts for serving the community as well!"
Many people have praised the restaurant chain for living up to their reputation and the Christian values that form the basis of the company's culture. A grateful woman took to social media to see that the specific Chick-fil-A was recognized for supporting their community. "Thank you, Donovan Carless Jr. and Nikki Hobbs Carless owners of the Chick-fil-A located at 5959 Triangle Town Blvd, Raleigh, NC 27616, for being a blessing within your community," she said. "You two are so humble and never seek recognition but the Bible states we should give honor where honor is due. The Devil tried to stop you all one way but God made a way anyway. Your service today was a blessing for various rescue teams from five different states. Thank you all again for being selfless and having a servant's heart. You all are blessed because you are a blessing to so many! Love you both for life, and may God continue to provide all you need and desire! All glory goes to God! Thank you for your obedience to the call!"
The restaurant has faced an outpouring of thanks and cheers, a bright light in a state that has precious little to celebrate. Hopefully, other people are able to give back in similar ways as North Carolina begins the long process of rebuilding.