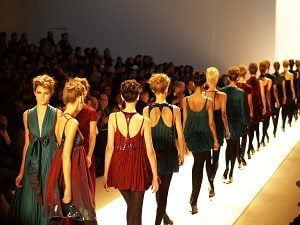 Spanish model Marian Avila was 21 when she fulfilled her dream of walking at the New York Fashion Week. She strutted through the ballroom of a Midtown hotel in evening looks of red and gold alongside several other models. These women, however, were unusual models. Each of them had faced challenges in their lives, many of which could have kept them off the fashion walk entirely. Avila, for example, has Down syndrome and would thus not normally be seen as model material. Talisha White, however, felt that was a shame which is why her mission is to break down barriers for women in modeling.
White heard about Avila's dream through a model who had herself stumbled across Avila's story online. As White has said she "loves giving girls opportunities to blossom and fulfill their dreams," Avila was an excellent fit for White's show. Other models included wheelchair-bound Tae McKenzie of Charlotte, North Carolina, and a young girl who, like Avila, has Down syndrome.
"I wanted to show not just one type of girl is beautiful. I like to showcase all types of girls, from pageant girls to models in wheelchairs, models with Down syndrome, models who are 4 feet and told they can never be a model. They are my 'it' girl," said White. "The mission of my business is to change the world one stitch at a time, but I know I'm not going to do that just by making pretty dresses. It's going to be the women who wear those pretty dresses. People like Marian Avila and Tae McKenzie, who are breaking boundaries in the fashion industry."
Avila's story and dream have received a great deal of attention in her home country of Spain, across Europe and even in the United States. "[Avila has] been a busy supermodel, meeting with all types of people," White said. "I'm very glad for her. She's been meeting with Vogue. She's been meeting with Harper's Bazaar. She's been meeting in different showrooms, different modeling agencies."
As for Avila herself, the young model is thrilled to have both fulfilled a long-held dream and done it in a way that has helped to pave the way for other unconventional models. "I felt really happy and I really loved the runway," Avila said through a translator. "I wanted to show the world that there are no barriers." She has certainly done that.