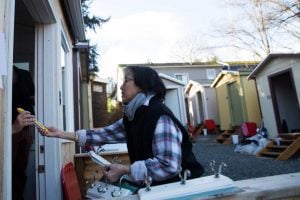 Denver, Colorado is becoming a top ranked city in terms of giving their homeless population places to call their own. In part, thanks to a local church.
St. Andrew's Episcopal Church of Colorado is pushing for the addition of a second tiny house village next to their church in downtown Denver. Though one hundred square feet doesn't sound like much for a home, compared to a bed in a shelter or a park bench it's a castle.
The village would be almost identical to Denver's first tiny house village, the Beloved Community created by the Colorado Village Collaborative, except it would have eight little homes instead of eleven.
Alongside community partners and volunteers and after months of construction, residents were able to move into the first ever tiny home village in Denver last May. Once moved in, the residents were able to get down to the business of living in their self-governed community. The village hosted a thank-you event in August and is looking forward to more. The village brought together a large array of local groups, including a Mennonite Church, Homeless Out Loud, and Denver's Interfaith organization.
The village became such a success that St. Andrew's Episcopal Church of Colorado decided that they wanted to partner with the Colorado Village Collaborative to build a second tiny house village right on their church's campus.
"After careful consideration, and a time of prayerful reflection, the people of St. Andrew's have decided to proceed with the proposed Tiny House Village," church leadership said in a news release, saying it had surveyed its parishioners last week and found support for the plan.
It will be a women-only community.
"Some people are more at-risk than others and it's our belief that women are more at risk," says Ally Dodge, the church's spokesperson.
Due to city zoning laws not addressing tiny house villages specifically, the villages are required to move their "temporary sleeping units" every 180 days. But, the church has been rallying for a change in city zoning laws. If so, the religious facility is hoping that they can begin construction as early as the coming months.
The church says it has been working with "multiple departments" in the city, with "very productive conversations." The group says it's committed to "meet their requirements for construction and development of this project, to the best of our ability."
Some of the church's neighbors are not in favor of the project, according to the church's written statement, with concerns including "safety, sanitation, cooperative partnership and transparency." St. Andrew's announced that it would continue to engage with those neighbors to make the community a happy place for everyone.
The tiny home planners say they'll start talking with the city over the next few months to define the next steps. City staff confirmed they are talking with the group.
"The city's planning department is working with St. Andrews on their idea. We appreciate their creative approach to housing Denver's homeless. As Mayor Hancock has said all along, the city can't solve this by itself — partnerships are critical," wrote Amber Miller, a spokeswoman for Mayor Michael Hancock, in an email.
The Colorado Coalition for the Homeless, though wishes the tiny homes were a long-term solution, made a statement saying "We've got to get more people into safe spaces, and if this is going to serve as a safe space for some people, then we support it."
Dodge agrees. "If we can temporarily house people who are on a waiting list for affordable housing for six months as they move through the system … then let's do it because it's better than them backsliding or getting violated or killed."