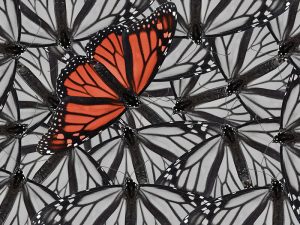 Unless you've been living beneath the proverbial rock, you've likely heard the latest buzz about Game of Thrones, the popular HBO fantasy series inspired by George R. R. Martin's "A Song of Ice and Fire" series. Martin wrote the books with a deliberately "grey" moral outlook—many of the characters perform despicable acts alongside their noble deeds, and the story is praised for being realistic in its depiction of tragedy, sex, and violence. In Westeros, what's right and wrong constantly shifts.
Even before the show's massive success, that emphasis on stark grittiness and moral ambiguity has been taking its place as the new trend in entertainment, as seen in mega-hits like Breaking Bad and The Sopranos. And it's no wonder—here in the real world, our certainties in our politicians, job security, and even in the very idea of a universal standard of goodness have been slowly undermined over the past decades.
But what if what we truly need isn't characters who reflect our brokenness, but ones who we can look up to?
One influential British entertainment executive is calling for fewer dark tales in television, and has begun actively advocating for something a little more inspiring. Piers Wenger is the controller of BBC drama commissioning, and he's set to bring audiences something a little happier than the usual grim drama.
"I think there is an awful lot of very dark drama across all channels and I would love to see some more inspiring stories," he said, in an interview with The Guardian. "So I would love a Sunday night show which examines heroism and what it means to be a hero. I would love to be pitched more ideas that take us into entertaining worlds – worlds that might even be aspirational."
Although Wenger embraces the idea that there must be a blend of inspiration and darkness in television, he feels things have become severely imbalanced—we've become all Yin and no Yang.
"I think there has to be a mix," he told The Guardian. "Sometimes we need to go to very dark places to take stories apart to understand the world and understand the way the world is changing around us, but we need a better mix."
This is the first statement of this kind from a major, contemporary television executive, but likely won't be the last. Public hunger for inspirational content is growing as audiences everywhere become fatigued by the combination of on-screen and real-life bleakness. According to Wenger, the darkness and death of BBC dramas are, in fact, beginning to repel viewers and affect ratings.
It seems that can only take so much grim.
The upcoming changes to BBC's lineup is likely to have a ripple effect, influencing shows overseas—including in America. We may yet see fewer Game of Thrones and Orange is the New Black, clones, with more positive shows taking their place.
While the common argument against positive programming is that inspirational shows tend to be less "realistic," this is precisely their strength. Grim entertainment holds a mirror up to the audience and tells them, "This is what you look like, and that's okay." To a point, this is needed—we're all flawed, human beings, and exploring our failings is an important way of dealing with them. But all too often, contemporary shows simply revel in that brokenness instead of attempting to address it.
Inspirational content, however, holds up an image not of us as we are, but of our best selves, saying "This is what you could be." And so instead of making an audience comfortable in their moral failings, positive and aspirational content challenges us. It pushes us to be better, to be more truthful, more heroic, more empathetic and loving.
This is sometimes an uncomfortable process, especially for a culture that has increasingly idolized the bad guy, and the anti-hero protagonist for whom the ends always justify the means.
But the benefits of maintaining the balance of light and darkness are many. Because of social media and 24/7 worldwide news coverage, we're constantly exposed to the worst that humanity has to offer, upping our anxieties, our fears, and our sadness. But when we counter that with happier themes in our entertainment, we can more easily find hope.
And it's in hope that we find strength. In our overly-cynical world, it has become too easy to bash the human race, and to give up on the hope that we could become something better.
But the truth is this: we can. Sometimes, we just need a little inspiration, and Wenger's decision to include more positive programming at the largest broadcaster in the world is sure to send waves of change out into the rest of the entertainment industry.
Get ready to be inspired.