Here is an awesome tale of Narnia heard over a lovely dinner at an Indian restaurant hosted by Grace Hill Media.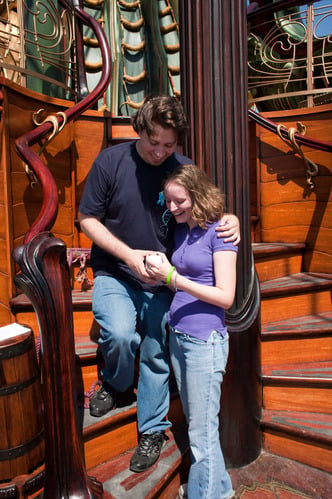 Paul Martin, founder of the fan website, aptly called NarniaFans.com, proposed to his beloved, Courtney, upon the Dawn Treader–on the set of Voyage of the Dawn Treader, in summer of 2009 in Australia.
A long time mega fan of all things Narnia, he was raised on the books, animated show and BCC show. So was Courtney. Paul founded his site in 2003.
On one of their first dates, he took her to a premiere of the first Narnia movie, The Lion, The Witch and the Wardrobe. She said she was thrilled to see it on film after experiencing it as a child in other formats.
Through his coverage of all things Narnia on his site, he developed a wonderful relationship with Douglas Gresham-step son of C.S. Lewis and Narnia producer. Douglas arranged for Paul to surprise Courtney with a ring on the deck on the Dawn Treader used in the film while they were filming.
That was September 29, 2009.
Was she a little… surprised. Knowing Paul, she shouldn't have been, but getting the ring was a delightful shock.
"She thought we were just going to the set," says Paul. She thought I was just nervous about that."
She said yes, and on August 28, 2010, they were wed. Where did they go on their honeymoon? Part One was a trip on The Matthew of Bristol, a Dawn Treader style ship that sailed around Cornwell. As part of the experience they went horseback riding on the beach!
For Part Two, they headed to Rome, for a blessing from the Pope. Seriously.
Today I saw the happy couple again, with one of their number one fans, Douglas Gresham. He seems quite fond of them and joked around about the big proposal, which is now part of the history of Narnia! Sweet.