What Are YOU Doing for Memorial Day Weekend 2010?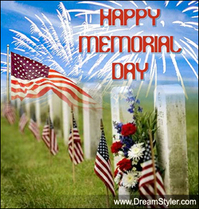 Memorial Day weekend is always filled with many different acitivities. It has different meanings to each individual and family. Some people honor the men and women of our armed forces and others celebrate a three day weekend with barbeques. Some travel to family reunions and others visit the graves of loved ones and do good deeds. We asked our readers "What does Memorial Day Mean to You?" and how will you celebrate or commemorate it? Take a look what the Beliefnet Community has planned for Memorial Day Weekend 2010.
Your Memorial Day Weekend Actitivities for Memorial Day 2010:
"Spending time with my husband and daughter, pray for all the fallen soldiers' family; hoping to god that if my husband does go overseas again I don't ever lose him. I love my soldier he's one of my heroes." -Ashley Manuel Sommerfield
"Putting flowers on family graves." -Stephanie Herrick
"Riding for a cure,, breast cancer awareness." -Teresa Clark
"Attending the Field of Flags ceremony in Mooresville and then getting the flag I purchased in memory of my father to bring home and fly at his estate! I can't wait!! God bless all our vets and their families!" -Elaine Davis
"We are going to take Job's daughters to St. Jude's Children's Hospital to do some service work and do some camping! I think we are going to have a great time. It is wonderful to see these lovely young ladies taking such an interest in doing community services like this." -Tara Halberstadt
"We are going to clean my mother's house, then hang by the pool at my brother's house." -Alisa Parkerson Kostas
"Heading over to the Veteran's cemetery with my Women Marines Association chapter to place flags on the graves of our fellow veterans and spending the weekend with family." -Rosemary Gregorec
"I'll be in Europe! YAY!" -Pam Dorris
"Spend time with family." -Felix Suárez
"Most likely I will be mowing grass and trying to avoid all the little flags." -Bob Wells
"Celebrating my hubby's b-day since it falls on the same day and spending time with our long awaited newborn, by then it should here!!! Family and flowers at gravesides will fall into place sometime over the weekend!" -Erica Deweese
"Going to put flowers on my son, his father, Rookies, Genick's and the rest of the family's graves. Sad Day! R.I.P. Sadly Missed!" -Stockman Mary
"Going to a comedy show and relax with my family. Maybe BBQ with my mother." Betty Guzman
"My husband and son are going 4 wheeling with our old church out to a glacier here in AK, I can't go because I have to work." -Kim Tooley
"Going to put flowers on my daughter's gravel and special ones there for my monlaw also!" -Missy Slone Devasher
"Was invited to go to a cabin in Flagstaff with friends, get out of hot Phx, AZ." -Julie Isaacs
"Family trip to Aberdeen, MD for my sons travel baseball team…Go Huskies!!!"-Renee Wilhelm Owens
"I will be in Naples, FL with my youngest daughter visiting my folks. I can't wait!" -Nancy Novotny-Hewitt
"I'll be working, and then I'll go home early, drink rum and coke outside hanging in my backyard." – Tasheika Gordon
"Working : (" -Monica Hostos
"I am going to Atlanta for a family reunion to see some relatives that I haven't seen in years…can't wait!"-Debra Lloyd
"Hang with my family."-Katie Rogers
"Going to my new home in Washington."-Melinda Nelson-Balasa
"Will go to Gopher State Round-up and visit my Parents, sister, and grandparents, and aunties grave sites; should be bringing some flowers too. God Bless!! "- Terry Gullickson Perl
"We are going to my Daughters grave, and then to my Mom and Dad's grave, and the rest of the day, hopefully is spent with the rest of my kids, and grandkids."-JoAnn Meyer
"Going camping; somewhere nice with a lot of woods and water!" – Wendy Warren
"Hang with my friends and family, and get to know my new neighbors." – Francesca Dion
Visit Our Memorial Day Page
Find out How to Help Families of Deployed Soldiers
See our video on When they Come Home
Here are photos of members' loved ones who are in the military:
Our Military Family Support group:
A great member journal on Memorial Day
Image from DreamStyler.com.