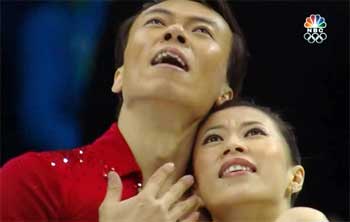 The figure skating couple, Zhao Hongbo and Shen Xue, set a new Olympic record when they became the first Chinese couple in history to win the gold medal.
At 36 (Zhao) and 31 (Shen), the couple are considered to be on the older side of pairs ice skating. Zhao is the second oldest male to win an Olympic gold since 1920 while Shen is the tenth oldest female to win a medal. Still, age didn't stop either of them from giving a near-flawless short ice skating program on Valentine's Day and a beautiful freestyle long program on Monday night, complete with big jumps and smooth spins.
For 40 years, the Russians have dominated the podium for pairs figure skating, but after the long program on Monday night, the Chinese claimed the gold and the silver medal and the Germans claimed the bronze.
Also husband and wife, Zhao and Shen have won three bronze medals in the past Winter Olympics, but retired after marrying each other in 2007. "When I hold her in my arms, I don't have to pretend I love her. I do," Zhao said before arriving in Vancouver (WSJ.com).
Still, despite world recognition from appearing on Chinese Sports Illustrated and multiple medals from other competitions such as the World Championships, the couple decided to come out of retirement and pursue the one medal that eluded them. "So many years have been devoted to this dream," Zhao said (NPR.com).
Despite the small mistakes they made in the long program, the couple showed how determination, diligence, and devotion can pay off, beating younger couples in technical and artistic scores. As for the silver medalists, Tong Jian and Pang Qing, they were in fourth place after the short program but skated into second after giving a near-perfect long program.
So what's next for Zhao and Shen? Zhao revealed, "I think it is hard to continue skating, so maybe it is time to have a baby." (WSJ.com).
For the two sets of Chinese figure skating partners, the consecutive win was a great way to start off the Chinese New Year.
More on Zhao and Shen: