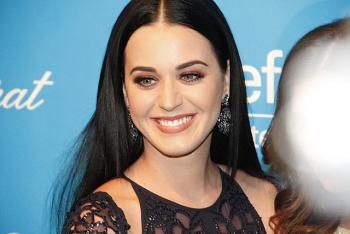 Katy Perry revealed she realized that "Hollywood is not America" after living in Kentucky.
The Bluegrass state seems to be doing the sometimes controversial singer some good and said it has been an "amazing experience."
Perry appeared on comedian Chelsea Handler's podcast, Dear Chelsea, when Perry discussed life in the rural state, saying, "I'm like, living in Kentucky, and I have for almost a month now."
Perry continued, "And that's quite an amazing experience because it reminds you that Hollywood is not America."
It's possible the rural change could bring Perry back to her religious roots, which she abandoned after becoming an international star.
Handler and Perry discussed the star's strict religious upbringing, both of Perry's parents are Pentecostal pastors. Perry said her mother didn't allow her to use the phrase "I'm lucky," instead, her mother, Mary, encouraged her to say "I'm blessed." In the Perry household, deviled eggs were called angeled eggs. Perry's parents may not approve of their daughter's controversial songs, but they remain supportive of her choices.
Perry recently made headlines for mocking a contestant's faith in American Idol. Perry told 21-year-old- contestant Israel McFarland to shock his strict Christian parents and write his own same-sex song as she once did, referring to her song 'I Kissed a Girl.' Perry also said the contestants' biblical name was unusual and poked fun at his parents.
Even though Perry mocked the contestant's faith, it seems over the years Perry is slowly returning to her religious roots. The pop star revealed a couple of years ago she turned to God after becoming suicidal when she and her then-boyfriend Orlando Bloom split. Perry said she felt like she hit rock bottom after her album sales were flopping and her relationship failed. The pair eventually reconciled and started a family together. Bloom is filming in Kentucky. It's unclear how long the pair will be in town.
Perry said living in Hollywood is like living in a bubble. She explained, "Yeah, I mean, they're living in a bubble of sorts. We're living in a bubble. Our bubbles are completely opposite. But they are –it's interesting."
Perry seems to be humbled living in Kentucky after telling Handler she can 'understand people better.' Life in rural towns can be eye-opening for anyone looking to learn more about other lifestyles and cultures. Kentucky is a great place for the couple to get that experience as Bloom continues filming.
While Perry has abandoned the Church, she keeps reminders of her Christian roots close by. She has a tattoo on her wrist that says "Jesus." The singer has said speaking in tongue is a "secret, direct prayer language to God." So don't give up on the star just yet. She may surprise us with another spiritual declaration in the near future.