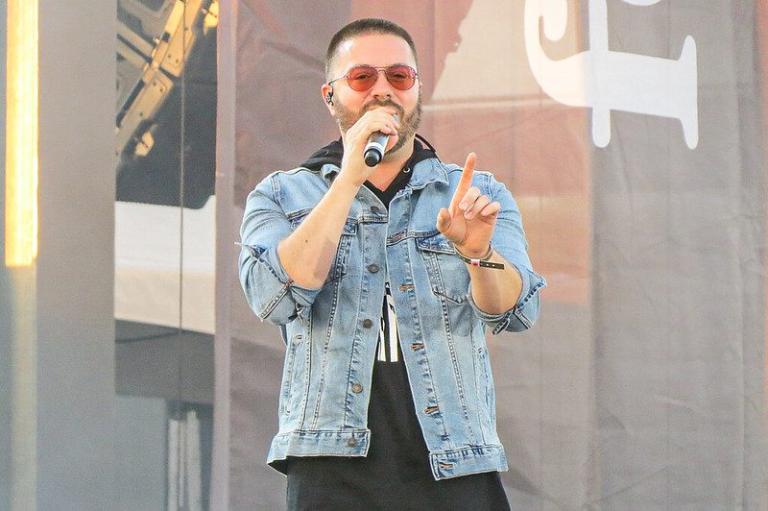 Christian singer Danny Gokey recently expressed his opposition to vaccination mandates on Twitter, along with his concerns that the "mark of the beast" is approaching, FaithWire reports.
While the "Jesus People" singer is vaccinated against COVID-19, he said that people shouldn't be forced to get immunized if they don't want to. He also slammed those in the news media and government who call the vaccine "a cure" when it isn't.
The former American Idol contestant addressed his fears, mainly that people no longer have conversations saying, "the only topic discussed is COVID, and the only acceptable thought is vaccination." This phenomenon is very dangerous, Gokey said.
"The fact that I'm even talking about this comes at a great cost to me," Gokey tweeted. "I could be identified as an extremist, and my music get pulled down from radio and other platforms because of this. People are threatening my livelihood, saying they won't buy my music and won't stream it. Some want to cancel me for asking questions and are even calling out my Christianity because I post these questions."
Gokey continued, "They tell me, 'Jesus would get the vaccine,' which is manipulative. Scripture says that He healed everyone that came in contact with him. Jesus did not run away from people who had diseases but ran to them to heal them. He didn't divide and demonize anyone. Although he did rebuke those in power, who were controlling people and those who forced burdens on them. He was confident in God's love and never walked in fear of anything."
Though Gokey was cautious about saying that he doesn't believe the vaccine itself is the "mark of the beast," he did say that we're in a cultural climate we're in is an indicator that "we are in the birthing point of the mark of the beast."
"When I was younger, I always wondered how when the Bible mentions in Revelation that, in the last days, people will not be able to buy or sell without the mark of the beast," Gokey said. "But now I see — it will be accomplished through a crisis that will make people think they are not safe unless they get it. And many will think that those who don't have the mark are very dangerous to society. Sound familiar?"
Gokey wrote, "It's already happening in some areas of our country and the world, but it starts subtly and has a birthing point," the recording artist continued. "I fully believe we are in the birthing point of the mark of the beast. Let me stress this — I don't believe it's the mark of the beast yet. It's so subtle and cunning how division works. It starts as a moral argument that convinces you to believe that you're an immoral person and don't care about others unless you put the serum in you."
He was clear about his concerns that our country is becoming more divided in subtle but cunning ways. He also fears that more of his concerts will be canceled because they will be considered "super spreader events."
"Research proves that idea as incorrect," Gokey said, "yet I'm seeing concerns being canceled, and makes me wonder if mine are next. The weird thing about this is that the COVID vaccine does not prevent transmission. CDC COVID vaccines won't stop transmission. Fully vaccinated can still get, spread Delta strand it's specifically designed in that way. Don't believe me, research it for yourself."
While it's commonly suggested that most Christians are against the COVID-19 vaccination and not inoculated, a new NBC News poll found that nearly 60 percent of white evangelicals have received a vaccination.
This comes in the wake of the U.S. Food and Drug Administration's approval of the Pfizer-Bio-N-Tech shot.
Newly released data indicates that vaccines against COVID-19 provide strong protection against hospitalizations, along with protection against severe illness from the Delta variant of the virus.
According to the report published in the New York Times, vaccines are 94 percent effective in stopping hospitalizations. CDC data also shows that more than 99.99 percent of those who are fully vaccinated against COVID-19 have not experienced "breakthrough" infections.
What are your thoughts? Are you for or against vaccination mandates?