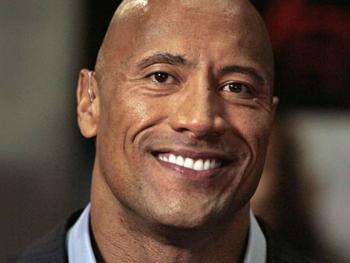 The former WWE superstar and one of Hollywood's highest-paid actors recently stated that he is open to running for president if that is what the people want.
According to a recent poll from Piplsay, 46% of Americans would support his candidacy. The poll also asked for responders to give their thoughts on other celebrities potentially running for office.
29% would support actor Matthew McConaughey for Texas governor
30% would support Angelina Jolie running for President
27% would support Oprah running for President
22% supported Tom Hanks
The internet exploded in President Johnson buzz after the premiere of his new hit series Young Rock in mid-February. In the show, the rock is running for President in 2032 and takes a hilarious look at his extraordinary life during an interview with Randall Park. Dwayne gives fans a stroll down memory lane as he recalls epic stories involving his father Rocky Johnson, and other former professional wrestling superstars.
Growing up Dwayne was not interested in following his fathers' footsteps in becoming a professional wrestler. His original goal was to get drafted by the NFL. At 6'4 and playing for the University of Miami, football and girls were all that were on The Rocks mind. In 1995 he entered the NFL draft but unfortunately went undrafted. After not being drafted, he became utterly depressed and recently said in an interview with Oprah that his faith helped him get through what he considers to be the darkest moments of his life.
The Rock clung to his faith in God and refused to give up on life.
It was then that the wheels were set in motion for him to become a professional wrestler and he debuted on November 17th, 1996 in WWF at Madison Square Garden as "Rocky Maivia". A combination of his fathers' stage name and his grandfathers' last name. His grandfather was Peter Maivia, a Samoan-American professional wrestler. His family is so deeply rooted in wrestling that it was only a matter of time before Dwayne joined the legacy.
During a recent interview with Erin Jensen of USA Today, Dwayne had this to say in response to what it would take to get him to run for the presidency.
"I would consider a presidential run if that's what the people wanted. Truly, I mean that, and I'm not flippant in any way with my answer. That would be up to the people. ….. So I would wait, I would listen. I would have my finger on the pulse, my ear to the ground."
All the political talk started in 2016 during an interview with British GQ. Johnson said that he hadn't "ruled politics out" and the thought of being elected governor or president was "alluring".
Then again in 2018, Johnson stated that he was seriously thinking about running for president, targeting 2024 or 2028 as potential elections.
When Donald Trump was elected president in 2016, it opened a new door in politics because it proved that an "outsider" of politics could gain America's support and secure the votes needed to win. He had no political experience and was famously known for his business ventures and The Apprentice.
Similar to Trump Johnson has also created his own empire and is a household name across the globe. He has even been billed as Hollywood's highest-paid actor for the last two years, raking in over 87 million for 2020 alone.
This past Saturday Johnson addressed the Piplsay poll on Instagram. His caption read:
"I don't think our Founding Fathers EVER envisioned a six-four, bald, tattooed, half-black, half-Samoan, tequila drinking, pick up driving, fanny pack-wearing guy joining their club – but if it ever happens it'd be my honor to serve you, the people."
It would certainly be interesting to see who Johnson would pick as a running mate if he makes it to the ballot and what party he would be affiliated with. In the coming elections, we can probably say not to be surprised if we start to see more celebrity candidates.
What are your thoughts on the possible President Dwayne 'The Rock' Johnson?