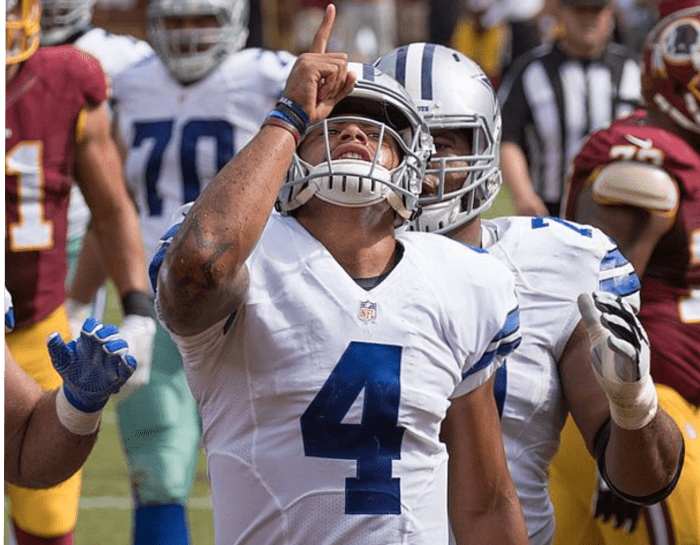 After the news went viral that Cowboy's quarterback Dak Prescott was given another three years with the team, fans were ecstatic. One of Prescott's biggest fans, his father, was no exception.
Prescott's dad opened up to Dallas Morning News Sports, about his feelings just hours after the announcement was made public.
"I am a lifelong Cowboy fan and I raised the kid a Cowboy fan. At five years old, he told me he will be a quarterback for the Cowboys. I don't think God gives you those types of gifts to make them incomplete," he said.
The massive deal extends Prescott's contract another four years for potential earning of $164 million with $66 million to sign and $75 million in year one, the most in NFL history, Fansided report.
Prescott's deal comes off a season-ending gruesome ankle injury that occurred in the 2020 season. At the time, many wondered what Prescott's future would look like given he was out most of the season.
While some doubted Prescott's future with the Cowboy's, his father never lost faith.
Prescott is a devout Christian and trusts in the direction God has taken him in. Following his injury in 2020, he thanked fans for all the support they showered him with, in a video he posted to Instagram. He also said he was excited about God's purpose and plan for his life.
"I'm just excited – excited for God's purpose and plan," Prescott said. "I know it's bigger than anything that I see, or I could have imagined, but I'm trusting in Him. My faith is doubled down more than ever, and I'm thankful that He's my Savior and He guides me in life."
"So I know through Him, all this will be possible, and all this will be a great comeback and a great story," he said.