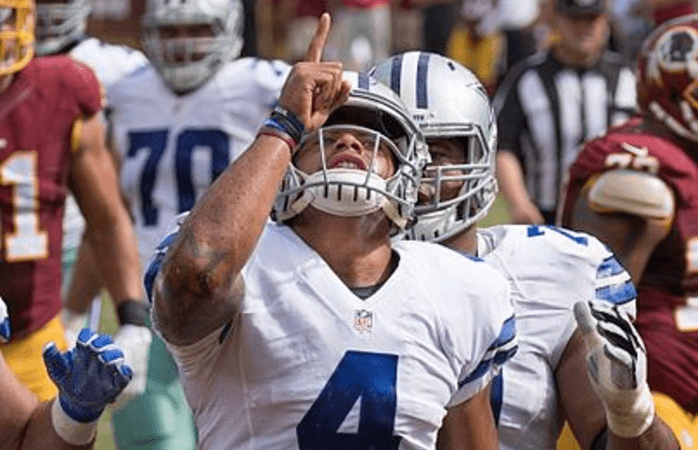 The Cowboys quarterback is trusting God after his season-ending injury.
Prescott also shared how excited he is about "God's plan" for his life following his ankle injury, Christian Headlines reports.
The star quarterback suffered a fracture to his right ankle in early October that required surgery. While this injury would bring most people down, Prescott was positive and upbeat. In a recent video posted on Instagram, Prescott shared the latest about his health, saying he is "excited for God's purpose and God's plan."
"I know it's bigger than anything that I see or could have imagined. But I'm trusting Him," Prescott said. "My faith is doubled down more than ever, and I'm thankful that He's my Savior, and He guides me in life, so I know through Him, all of this will be possible, and all this will be a great comeback and a great story."
This video was recorded when he was on his way to a medical check-up following his surgery. He told fans that he's doing well and is in great spirits.
"I can't thank you enough for all your love, your support, your prayers over the last few days," Prescott said. "They've been more than overwhelming – from teammates to family, to friends, to fans I don't know, to former and current players around the league, and players around all sports, I just want to say thank you. They're definitely appreciated and received well, so just know that that much love and support out there makes a huge difference."
Now, the Christian quarterback is ready to start the road to his comeback, he said.
"…I know … this little adversity is just going to be another chapter in the book. I'm excited to move forward and write it. I just, once again, can't thank you all enough for your love and your support through it all. But I'm in great spirits. I'm gonna stay that way. I'm looking forward to this football season – seeing the game in a different perspective and supporting my teammates and those around the league that need it."
He closed the broadcast saying, "God bless you all."