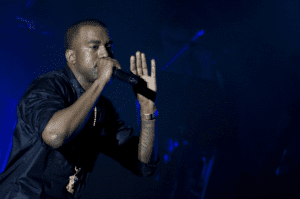 Kanye West has been in the news for countless controversies and scandles, but none of that seems to phase the superstar. There might be new evidence to suggest it's due to his growing Christian faith.
Nicki Minaj held a special episode of her series Queen Radio last week where she interviewed Chance the Rapper. Chance recently went on a sabbatical to "learn the Word of God", and when the conversation moved to Chance's relationship with God Nicki revealed that Kanye West told her that he was a born-again Christian.
"Sometimes in the music business, we think that other artists don't believe in God or are aren't spiritual as we are, and stuff like that," she said. "Then when you find people, because I just was with Kanye, and he told me he's a born-again Christian now. Like my first instinct was, 'I'm so proud of you,' because I could see there's a peace that he has now that just surpasses everything."
"And that's what I find God gives you, and I love when I see men that are man enough to embrace God."
West has recently been hosting church serves weekly, inviting pastors like Rich Wilkerson, Jr. to give a sermon. He also has been working with other artists to remix worship songs. He even hosted a pop-up church service the Sunday of Coachella.
Minaj also has a Christian past. She shared on the podcast a time where she encountered an atheist.
"To everybody listening, if you have a man that says he don't believe in God. One time somebody told me this, that, 'I don't believe in God,' and it scared the living hell out of me," she said. "I ran like there was no tomorrow. So I just want to say, because a man needs a strong woman in his life, like whether that woman is praying or meditating or just supporting you or giving you those talks, people don't understand how far that goes for men."
Chance agreed, and shared how his wife saved him and brought him to the Lord.
"I need you to hear one song on my album that has my best verse that I have written in my life," he told Minaj. "It's called 'We Go High.' I explain that my wife literally saved my life by becoming celibate and going and getting baptized."
He added: "And it changed her life, obviously, but we're talking about me. It changed my life for real and now I know exactly where my strength comes from, and this is all after I proclaimed I love Jesus and stuff."