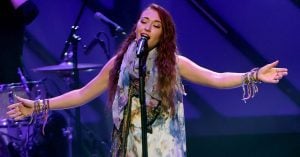 Lauren Daigle, the quickly growing Christian singer, is continuing to break records in the music industry. Her album, "Look Up Child", has just become the longest-reigning album on Billboard's Top Christian Album chart.
Daigle's album, which just hit 39 weeks, surpassed Switchfoot's "The Beautiful Letdown" which spent 38 weeks at number 1 on the chart starting in 2004. Daigle's album debuted at No. 1 in September 2018. It also reached No. 3 on the overall Billboard 200 chart right after it's release, beating out top secular musicians like Nicki Minaj, Cardi B, and Drake that week.
She won a Grammy Award for the album 'Look Up Child' and she just earned three Billboard Music Awards. This is a huge jump from where Diagle first came from. Diagle tried out for American Idol over ten years ago, and was thrown of the show from judges.
"It's amazing how a 'no' can be detrimental in one place and how much power it can give you," she said at the time.
Daigle, who doesn't always consider herself a Christian artist, loves her music for the help it can give others. Her "childlike faith" is a huge theme in the album.
"My music is having crossover appeal, but it doesn't mean that I'm leaving one for the other or that I'm going to be swept up by one thing or the other. For me, it's like, 'Oh, everything just got even more clear,'" Daigle said.
"Everything just got clearer as to why it is that we go and love people who are outside of the walls of our church, outside of the walls that we're comfortable with," the Christian Post reported.