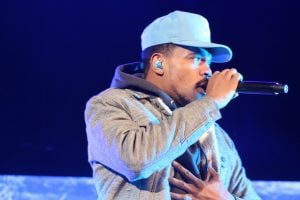 No matter how much fame or money you have, every single one of us faces the harsh realities of life.
Chance the Rapper is no stranger to pain. This past week, he tweeted a plea for help, telling his over 8 million followers that his aunt is in desperate need of a kidney.
"I really need help. My Auntie Toni is one of the strongest forces in my life, and she is in dire need of a #kidney. We have exhausted all options and have been wait listed for years. My family believes in the power of prayer and we give this problem up to God," the hip-hop artist wrote on Twitter recently.
He also encouraged his fans to get the quick blood test done required to see if you are a match for others.
"I'm sorry it was a lil (sic) overwhelmingly emotion[al] writing this, Her blood type is O positive," he wrote, "you can get a quick blood test and physical to find your a match."
While he took more practical steps to try and find a donor, Chance also simply requested that fans continue to pray for him.
"A prayer really goes a long way," he added.
Twitter responded with an outpouring of love and positivity for the Grammy Winning artist.
One fan commented, "Hi Chance. Please send me a message. In the past few days I have signed up to become an altruistic living donor…"
Chance has spoken about his faith in the past, and is one of the more open Christians in Hollywood. This past December, he took a sabbatical from music to focus on his faith.
"I've been brought up by my family to know Christ but I haven't taken it upon myself to really just take a couple days and read my Bible," he wrote on Instagram at the time. "We all quote scripture and tell each other what God likes and doesn't like but how much time do we spend as followers of Jesus to really just read and KNOW his Word. I'm definitely guilty of not devoting time to it," he said.