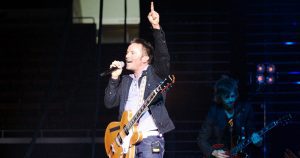 Grammy Award winner Chris Tomlin is returning to Nashville's Bridgestone Arena once again. For the third consecutive year, he will host his "Good Friday Nashville" concert in Music City, USA. The concert has enjoyed extraordinary success since its inauguration, much like its main act.
Christ Tomlin has recorded 12 albums and 16 number one radio singles. He has also earned a long list of music awards including a Grammy, an American Music Award, three Billboard Music Awards and is one of only four artists to ever receive the Sound Exchange Digital Radio Award for over one billion digital radio streams. His concerts have repeatedly sold out venues in major cities including the Forum in Los Angeles, Madison Square Garden in New York City, Bridgestone Arena in Nashville and Red Rocks in Denver. This year's "Good Friday Nashville" concert is unlikely to break that successful streak.
In addition to Chris Tomlin, Pat Barrett and Tauren Wells will also both be performing. These Christian performers, however, will not be alone on stage. As in previous years, the concert is set to contain surprise appearances. Last year, Rascal Flatts was the surprise performer. There will also be one other star to take the stage. While he is not a singer, he is another great Christian artist. Best-selling author and pastor Max Lucado will appear in the "Good Friday Nashville" tour as a speaker.
Tomlin launched his "Good Friday Nashville" event in 2017, and it was the largest ticketed Christian concert in the venue's history. In fact, demand for tickets was so high in 2018 that Bridgestone Arena opened additional seating. Due to the overwhelming response, Tomlin has committed to host the annual concert indefinitely. He currently has reservations in the Bridgestone Arena for the concert until 2024.
While it is known largely for being the heart of the country music industry, Nashville also boasts more churches per capita than anywhere else in the nation. When Tomlin started the "Good Friday Nashville" concert, he was hoping to unite those two sides of Nashville.
"When my family moved to Nashville years ago I knew I wanted to do something to bring all the different streams of the churches together, and I could think of no better weekend, no better night, than Good Friday and Easter weekend," said Tomlin. "Something really unique about this night is that the event benefits Tennessee Kids Belong, an incredible organization that supports foster care and adoption around the state of Tennessee. So not only are we gathering together to worship God on Good Friday, but the ripple effect that this has for so many kids in our backyard is incredible."
Tickets are now available online for Tomlin's "Good Friday Nashville" tour. Be sure to get your tickets before they run out so you can enjoy a night of fabulous music and inspirational words while simultaneously supporting a good cause. It does not get much better than that.