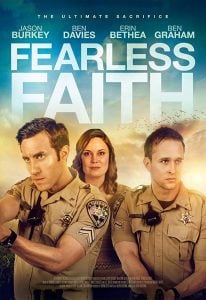 Christian movie lovers, rejoice! There is a new faith-based movie production company in town. Founded by film industry veterans Tim Warren and Kevan Otto, Atonement Pictures is "a full-service feature film production, distribution and marketing company serving the Christian marketplace."
"Our goal is to provide entertaining content that the consumers are looking for," Kevan Otto said. To do that, the new company is aiming to break what they feel are the stereotypes about Christian films.
"There's some discussion on how people feel that sometimes Christian movies can be a little too preachy," Otto said. "I'm not talking about watering down messages. I'm talking about trying to… convey it with better storytelling and better production value. A lot of faith-based movies, not the bigger ones, they tend to feel the same and tend to have a little lower budget feel to them. What we are trying to do is continue to enhance the craft and continue to bring better storytelling to it but still bring the message."
The message, Otto emphasized, is the most important part of a Christian film. It can, however, sometimes get lost if moviegoers are distracted by boredom. "You can compare it when you go to a church, and there's two preachers — a preacher who is dry and one who is dynamic. They're giving you the same message but they make you feel completely different when you leave church."
In order to ensure that the messages in their movies reach the right people, Atonement Pictures has an unusual way of booking some of its films. Rather than simply putting them in a movie theater and hoping for the best, Atonement Pictures books showings through different churches.
"For years, people would go out and get the churches to do screenings," Otto said. "As [Atonement Pictures] developed a relationship with churches, we found that churches said, 'We would love to show your movie, but we don't want to show it in the church [due to logistical and spacing issues.] …We want to show it as a church function but in a movie theater.' [This way,] churches can book a movie night…and actually book a theater. They still take their congregation to go see it, but it's kind of a night out."
This is the method of booking that Atonement Pictures is using for their upcoming film "Fearless Faith." "Besides just providing a good time, films [released in this way] need to have a way to have some grassroots to them," Otto said. "'Fearless Faith' is a film with this law enforcement component that we saw, and we felt based on the conversations we had that these two communities were looking to come together… [So far,] we're really seeing a lot of positive feedback from churches saying 'Yeah, we're going to reach out to our local law enforcement.'"
"Fearless Faith" is about a police officer and "some questions he starts to have, some things he's seen on the job, [it] gets him dealing with his own walk and his own faith."
The story and the opportunity it provides resonate well with many church audiences. "A lot of churches, especially a lot of rural churches are interested in hosting a law enforcement night and hosting their local law enforcement, almost a meet the police night," Otto said. "In the South, that works really well… We wanted to make sure that there wasn't just an opportunity to show it to their congregation but also as a way to outreach… So, the movies that we do that with and put in that program, we definitely choose those that have some sort of potential for outreach."
Not every movie, however, is a fit for this sort of program. "We don't do it with all our films," Otto said. "This lends itself better for smaller budget movies, it's important that you use it to target areas where there would be interest. If you do it nationwide, you have to put it everywhere. With faith movies on a wide release, if it goes out on 600 screens, then 200 screens do all the heavy lifting. A faith-based movie in Birmingham, Alabama, for example, is going to do better than a faith-based film in downtown Detroit." Using the church booking method, however, allows "smaller films a way to do a theatrical release while targeting a group that's interested."
Some of Atonement Pictures' outreach is handled by Graham Family Films. "We have a relationship with them," Otto said. "Benjamin Graham, [who] runs [Graham Family Films,] he was my pastor. That's sort of how we started. They have a huge church outreach through their organization."
Atonement Picture's method of booking through churches is unusual, but many movie theaters and studios have to use different approaches to draw viewers these days.
"The film industry now is kind of going through what the music industry went through 10 years ago. We're seeing the digital world take hold and that's where people want to watch stuff," Otto said. "To talk about the digital world, [Benjamin Graham said,] 'I used to say, "Everyone open your Bible and turn to this page." Now I say, "Turn on your Bibles" since I'm seeing iPads and screens'…People want to consume the product differently. Theaters are changing to more be of an event… [by doing things such as] serving dinner."
Otto has directed nationally released films before, and Atonement Pictures does both wide and small release films. Otto's personal preference, however, is Atonement Pictures' method of booking through churches.
"I prefer doing the church release myself," he said. "[For widely released films,] there's millions of dollars involved in advertising… and that's not something smaller films could do. I like the more grassroots approach. It gives filmmakers a chance to work with us and look at it almost as a ministry…[You also know] you're showing your movie to a full house which is always kind of cool."
As for "Fearless Faith" itself, there was a moving message buried in the events surrounding the film's creation as well as in the script. "How I came across the story was a guy named Keith Rushing called and said, 'My son wrote a script. He's a law enforcement officer here in Louisiana. We've secured the financing, but we want you to help us take it to market,'" Otto explained. "So, I got on the phone with [the writer.] He's 29 years old, with eight or nine years of law enforcement experience, and he got a calling to make Christian films… He left the department on great terms." Much of "Fearless Faith" was filmed in the same area Kevin Rushing used to work. "The sheriff asked him to come back every time we filmed," Otto said.
In addition to being filmed where Rushing used to work, "Fearless Faith" is based on his own experiences as a law enforcement officer. "There's a very dramatic ending to the film, and I don't want to give it away," Otto said. "[But the protagonist] starts to wrestle with and realize that although he's in law enforcement and he's saving people's lives every day, what good is it really to save someone's life if their soul is not saved or protected? [The film] really touches on the importance of salvation and how important it is to have that fearless faith."
Hopefully the film not only conveys its message successfully, but enables churches to better reach out to law enforcement officers and offer the healing and understanding so many of our first responders need.
More information on "Fearless Faith" can be found on Atonement Pictures' website and the trailer is available online now.