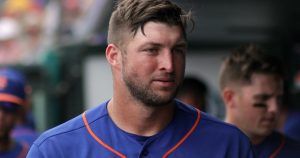 Tim Tebow seems to be a constant source of inspiring information and quotes. From his famous "Tebowing" prayer pose in the NFL that to impromptu airport ministries, Tebow seems to make it a point to display some of the best of Christianity. That has not changed with his latest video to go viral.
During the New York Mets' spring training in Port St. Lucie, Florida, Tebow took a few minutes to speak with the media. One of the questions he was asked was how he dealt with critics who claim that he will not succeed. This is something Tebow has a great deal of experience with given the number of naysayers that sneered at his decision to change careers and become a professional baseball player. His method of handling criticism, however, seems to have worked well for him given his batting average, slugging percentage and on-base percentage have all improved.
"It's really trying to keep perspective and not letting other people define you because they sure do want to," Tebow said. "Shoot, I try to encourage young people all the time to not let the world or other people — outside sources — define you because you are always going to have critics and naysayers and people that are going to tell you that you won't, that you can't, that you shouldn't. Most of those people are the people that didn't, that wouldn't, that couldn't."
Tebow made it clear that his statement was not just aimed at the media but also at any young people who would see the clip later.
"Don't be defined by outside sources," Tebow instructed those watching. "You go after your dreams. Succeeding or failing is not making it to the bigs or it's not necessarily fulfilling that. It's having to not live with regret because I didn't try. I just feel for all the young people that don't go after something because they are so afraid of failing that you are going to live with a lot more regret than if you would have if you tried and you failed. I'm very passionate about that…I think the reason people don't go after things is because how much you will be criticized. What if I fall flat on my face? Fear and doubt and all these things creep in. I just don't believe that is the healthiest way to live. I don't want to have to live with fear or doubt every day, regardless of what everybody here says about me. It doesn't define me…I'm grateful that doesn't define me. There is one thing that defines me and that's what God says about me. Besides that, I get to go live out my dreams and try to help as many people along the way as possible."
The clip can be seen in its entirety on Steve Gelbs' Twitter account. One can only hope young people who see the clip take Tebow's wise words to heart.