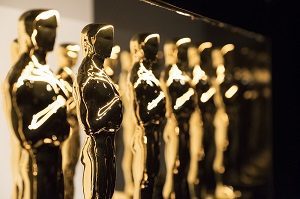 The Academy Awards have come and gone, and the night was as memorable as any of the award shows in past years. The Oscars in 2019 had a bit of a bumpy road getting to the day of the show, but they succeeded when then had to do so. They also had a number of firsts for the Academy Awards. Here are a few of those firsts from the 2019 Oscars.
First Oscars Without a Host
The 2019 Academy Awards was the first to be held without an official host or team of hosts. Instead, the night started off with a performance by Queen and Adam Lambert. Then, Amy Poehler, Tina Fey and Maya Rudolph gave the award for Best Actress. They were among the small army of temporary hosts giving out awards during the evening.
First Oscar For Olivia Colman
Olivia Colman won her first Oscar on her first nomination for her work in "The Favorite." The actress seemed somewhat flustered from excitement when she took the stage. "It's genuinely quite stressful," she said. "This is hilarious! Okay, I have to thank lots of people. If, by the way, I forget anybody, I'm going to find you later and give you a snog."
First Oscar For Spike Lee
Spike Lee took home the Academy Award for Best Adapted Screenplay for "BlacKkKlansman." Lee shares the award with co-writers Charlie Wachtel, David Rabinowitz and Kevin Willmott. Lee, however, gave the acceptance speech and reference how his great-grandmother had been a slave and that his grandmother payed for his college.
First Oscar For a Mexican Film
"Roma" snagged the award for Best Foreign Language Film, the first time a Mexican film has won the category. The film won a number of awards, though it did not manage to snag the coveted Best Picture award despite many people believing it would. Instead, that award went to "Green Book."
First Black Woman to Win Best Production Design
Hannah Beachler won the award for Best Production Design for her work on "Black Panther." This was the first time a black woman won the award. It was also only the third time that a black woman won an Oscar outside of Actress and Supporting Actress. The second was Ruth Carter for her work on the costume designs for "Black Panther."
The Oscars close out the award season for now, and they undoubtedly gave people quite a bit to talk about. There were a number of firsts and quite a few upsets, but then again, it would be boring if it were always the same, right? What was your favorite moment from the 2019 Academy Awards?