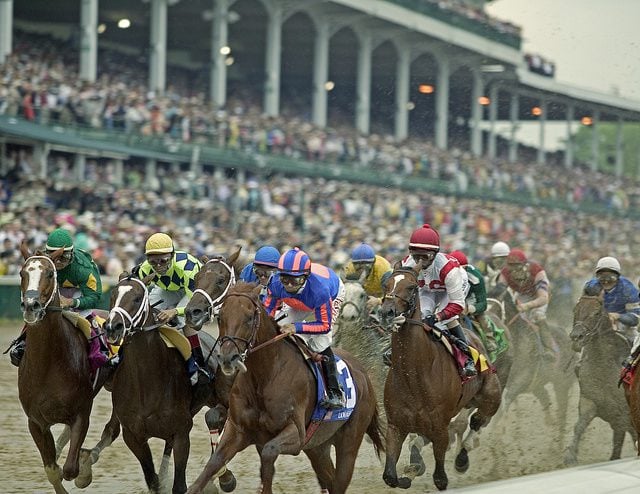 There is every possibility that this Saturday, June 9, 2018, Justify will become a legend in horse racing by cinching a Triple Crown win. In the history of horse racing, there have only been 12 horses to win the Kentucky Derby, Preakness Stakes and Belmont Stakes in one month. Justify, however, has a decent chance at becoming lucky number 13.
Justify is the current favorite to win the Belmont Stakes and continue his 5-0 lifetime winning streak. The horse has already broken the Apollo Curse when he won the Kentucky Derby after not racing as a two year old. The horse was stuck racing on a sloppy track in both the Kentucky Derby and the Preakness Stakes as both races were preceded by heavy rains. It is currently unclear if Justify will make his bid for history on another wet track. There is a 40 percent chance of showers reported, though this is an improvement from a prediction earlier in the week that all but guaranteed rain on the day of the Belmont Stakes. Justify has performed well in messy conditions before which, if it rains once again, could give him an edge.
Hank Goldberg, however, thinks that Justify is going to be too fatigued to cinch a Triple Crown victory. Goldberg has successfully predicted a number of horse races, including calling that Justify would pull off this year's Preakness win despite an injured heel and terrible conditions. Still, a successful Triple Crown winner has to pull off the truly titanic feat of winning three races against the most competitive fields in the sport in roughly four weeks. It is an exhausting ordeal, but Hall of Fame trainer Bob Baffert thinks that Justify can succeed. "[Justify had] the best Kentucky Derby-winning performance that I've brought up here," said Smith. "He just put himself up there with the greats. It takes a horse, you know, like American Pharoah, [the last Triple Crown winner]…I don't want to jinx myself but we knew–I knew I had something really special."
Justify's jockey, Mike Smith, agrees. "I have never been on a three year old like this," Smith said, quite the statement coming from a Hall of Fame jockey who has won seven American Classics.
All the predictions in the world, of course, are incapable of guaranteeing a specific result. The track may or may not be sloppy on Saturday. Justify may or may not be too fatigued to win the Belmont Stakes. There may or may not be a 13th Triple Crown winner named this year. All anyone can do is wait to see if Justify's winning streak comes to an end or if he gallops his way into racing history.