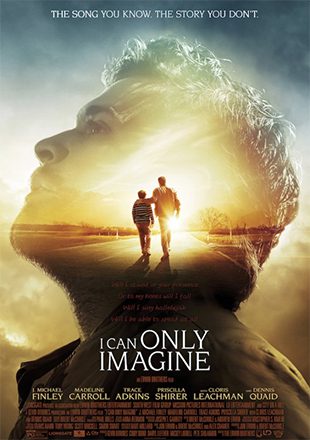 The idea of a feature-length movie based on a song sounds ridiculous, but "I Can Only Imagine," the faith based film based on the hit song of the same name, succeeded beyond anyone's expectations. The film grossed over $83 million overall, and it finished third at the box office during its opening weekend despite competing with such secular blockbusters as "Black Panther." Now, the faith-based film of the year is making the transition from big screen theaters to family TV's with the DVD release of "I Can Only Imagine."
Faith-based films are often dismissed by the movie industry as well as critics and Hollywood elites, but "I Can Only Imagine" earned an "A+" score on CinemaScore, the highest possible rating available. Less than 80 films can boast of a similar rating, even without the handicap of being a faith-based film in an overwhelmingly secular industry.
The film "I Can Only Imagine" is as uplifting as the song on which it is based. The movie follows the story of Bart Millard, the lead singer of MercyMe and the writer of the song "I Can Only Imagine." The film charts how a song that took only minutes for Millard to write was actually born out of a lifetime worth of experiences. The official synopsis explains that Bart Millard "found faith at a young age, [but] life wasn't easy for [Millard.] He leaned into an active imagination and his love of music as escapes from a troubled home life. As he grew older, [Millard] turned to football in hopes of somehow connecting with his abusive father. But a career-ending injury—combined with the vision of a teacher who saw unlimited potential—set [Millard] on a musical pathway."
In both the movie and real life, Millard was simultaneously pursuing his dream and "running from broken relationships with his father and Shannon, his childhood sweetheart." Millard and MercyMe, "named for his grandmother's favorite expression," hit the road in an "old, decrepit tour bus" in order to chase the ultimate dream of all musicians. "With the guidance of a grizzled music-industry insider, the band [underwent] a journey none of them could ever have imagined."
As both the biopic of one of the most successful Christian songs of all time and as a real-life story about the power of faith, "I Can Only Imagine" is a must-have for every Christian family. The film is "a gripping reminder of the power of forgiveness, [and it] beautifully illustrates that no one is ever too far from God's love—or from an eternal home in Heaven."
The DVD version of "I Can Only Imagine" will be available online (LINK: http://lionsgateathome.com/i-can-only-imagine) and in stores starting Tuesday, June 12, 2018. Pre-order (LINK: http://lionsgateathome.com/i-can-only-imagine) your copy today!