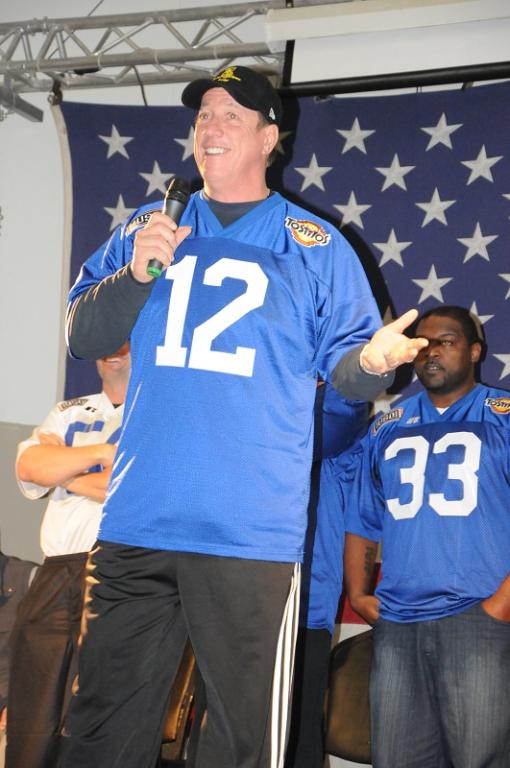 For much of the last five years, Jim Kelly has battled cancer in various forms. He was diagnosed with squamous cell carcinoma in 2013, but successfully forced the cancer into remission. Kelly enjoyed three cancer-free years before the disease returned, this time in the form of jaw cancer. Kelly's spirit, however, remains unbroken.
"The good Lord has put me in this situation to help not only the people out there who are suffering from cancer, but little kids, too, who are going through tough times to never give up, to keep fighting because you never know," Kelly said.
Kelly's determination to continue battling cancer recently earned the Hall of Fame quarterback the Jimmy V Award for Perseverance and is to be presented with the award at the ESPY's in July. Kelly, however, is currently scheduled to undergo surgery on June 21, 2018, less than a month before the ESPY's take place. The operation is set to add tissue to Kelly's mouth in order to help him function normally and give him back the ability to eat solid foods. The timing of the operation and award ceremony has raised some questions about whether or not Kelly will be able to attend to the ceremony.
The Jimmy V award is given to "a deserving member of the sporting world who has overcome great obstacles through perseverance and determination," and is named after Jimmy Valvano. Valvano's "don't ever give up" speech at the ESPY's in 1993 is considered to be one of the most inspirational speeches in sports history. Kelly has said that he is honored to be receiving the award, but "the only bad thing about it is you have to go through a lot to get it."
The 2018 ESPY Awards are currently set to be held on Wednesday, July 18, 2018, at the Microsoft Theater in Los Angeles. This ceremony will mark the ESPY's 26th anniversary and the 11th presentation of the Jimmy V Award. The first recipient of the award was Kay Yow who, following chemotherapy treatments for breast cancer, successfully returned to coach the North Carolina State University women's basketball team to the ACC Tournament championship and the regional semi-finals of the NCAA Division I Tournament. Seven of the Jimmy V awards have gone to those were currently battling or had beaten some form of cancer.
Despite multiple surgeries looming on the horizon, Kelly is hopeful that he will be able to make the ceremony. "God willing I'll be there," Kelly said.