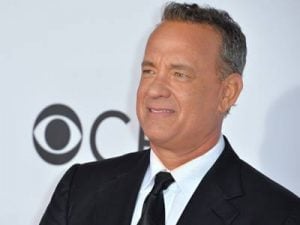 Tom Hanks is one of the most recognizable faces in Hollywood. He is also one of the highest grossing actors of all time. You likely recognize him for his notable roles in films like Forrest Gump, Philadelphia, Saving Private Ryan, Apollo 13 and the voice of "Woody" in Toy Story. His movies have brought in over $4 billion at the U.S. box office and over $100 million each worldwide. His talent is irrefutable. What some may not know about Tom is that he is a born-again Christian and his faith journey is just as diverse and colorful as the characters he's played.
The actor is known as an incredible humble, down-to-earth guy, likely a result of being raised in a faith-filled environment. Growing up, Tom was exposed to different religions as his parents divorced and remarried, each with their own religious views. Tom identified with everything from Mormonism, to Catholicism and Evangelicalism.
"The major religion I was exposed to in the first 10 years of my life was Catholicism. My stepmother became a Mormon. My aunt, who, I lived with for a long time, was a Nazarene, which is kind of ultra-super Methodist, and in high school, all my friends were Jews. For years I went to Wednesday-night Bible studies with my church group. So I had this peripatetic overview of various faiths, and the one thing I got from that was the intellectual pursuit involved. There was a lot of great stuff to think about…," he said in an interview published in George magazine.
Tom later joined the Greek Orthodox Church when he married Rita Wilson in 1988 and found a home there. He has shared that he enjoys being Orthodox because the atmosphere helps him meditate and reflect on bigger life questions. This is where his faith really matured.
When it comes to his personal views on God, Tom believes his relationship with God is a very personal matter. The way he was raised likely has a lot to do with his beliefs.
"My parents divorced so often that I've seen a lot of different sort of religions down the line. My wife is Greek Orthodox and I've been converted. My kids have been baptized in the same font in which she was baptized at our cathedral in town. But I still believe in being able to leave the heavens to those who want to interpret the heavens as they see fit," he told Parade.
Tom is said to be deeply religious man that attends church regularly. He has said before that his greatest motivation for going to church is to come in contact with the great unanswered questions mankind has always asked.
Tom and Rita are both people of faith. The thespian couple, who have been married for 30 years, relied on their faith during one of the most traumatic years of their lives. In 2015, Rita was diagnosed with breast cancer and underwent a double mastectomy, and their son Chet Hanks was also battling substance abuse. During this trying period, Tom was also trying to control his Type-2 Diabetes and its side effects, in addition to also being hit with a lawsuit as a result of Chet's actions. In spite of all they were going through, Tom and Rita leaned on their faith to provide them the strength and hope that saw them through. While their faith has been put to the test, they still trusted that God would see them through their darkest valley, and he did.
In an interview with the New York Times, Rita spoke highly of Tom and his commitment through her battle. "You never know how your spouse is going to react in a situation like this…I was so amazed, so blown away by the care my husband gave me… who knew it would make you even closer?," she said. After much prayer and a successful surgery, she overcame and was announced cancer-free.
Despite Hollywood's endless splits, their marriage has stood the test of time in Hollywood and a lot of this has to do with their faith in God. As Christians, we know that with God all things are possible.