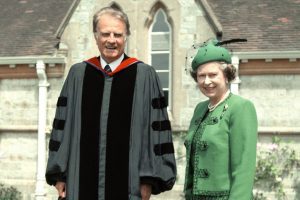 Season two of the hit Netflix series "The Crown" features Queen Elizabeth II with many famous visitors, including the Kennedys to former King Edward VIII. However one of the most interesting and meaningful cameos comes from the American evangelical Reverend Billy Graham.
During the sixth episode, the Queen is captivated while watching Graham's sermon on television with the Queen Mother. She becomes completely enchanted by the young preacher. The Queen invites Graham to give a sermon in Windsor Chapel and then hosts him for lunch at the palace. They later share a few poignant chats about the Queen's desire to be a "simple Christian" and her struggles with forgiveness. In season one, Elizabeth's role as the leader of the Anglican church impeded her sister's marriage to Peter Townsend, but this is the first time the show has delved into her faith.
"The Billy Graham episode is about Elizabeth wanting to deepen her Christianity," shows creator Peter Morgan told Vanity Fair. "She stops reflecting on forgiveness as a central tenant of Christianity at precisely the time that she's asked whether she can or can't forgive her uncle for [meeting with Nazis and a general inclination toward appeasement]. The two story themes dovetail quite nicely. It's the best bit of writing in the season."
The pair shares a special friendship in real life, as well. Graham, now 99 years old, has spoken out about his friendship with the Queen before, detailing their meetings in his autobiography Just As I Am. Whenever Graham came to the U.K., the Queen would invite him to preach, and when she traveled to the U.S., she would often visit him.
"I believe one reason for the Queen's spiritual interest was the warm faith of her mother, Her Majesty Queen Elizabeth the Queen Mother," he wrote.
"I always found her very interested in the Bible and its message," he continued. "After preaching at Windsor one Sunday, I was sitting next to the Queen at lunch. I told her I had been undecided until the last minute about my choice of sermon and had almost preached on the healing of the crippled man in John 5. Her eyes sparkled and she bubbled over with enthusiasm, as she could do on occasion. 'I wish you had!' she exclaimed. 'That is my favorite story.'"
As head of the Church of England, the Queen has never hidden her strong Christian faith, but it is rare for royalty to speak openly about their religious beliefs.
"Her official position has prevented her from openly endorsing our Crusade meetings. But by welcoming us and having me preach on several occasions to the royal family at Windsor and Sandringham, she has gone out of her way to be quietly supportive of our mission," he wrote.
"She has always been deeply religious," Robert Lacey, who is the show's historical consultant and author of The Crown: The Official Companion, told PEOPLE. "She was close to the Rev. Billy Graham in his prime…Her Christian faith is fundamental to her in an old-time evangelical way, deriving from the example of her mother, who knelt at her bedside every night to say her prayers. It is said that the Queen does the same."