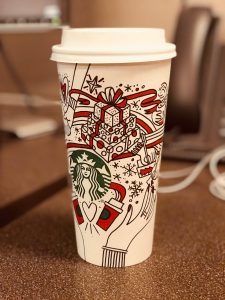 It's that time of year again. The holidays are back, which means a new festive cup from our favorite coffee retailer, Starbucks.
The coffee chain unleashed their holiday cups for 2017 last Wednesday. The cup features a brand new design with black, white and green coloring. A Christmas tree, doves, a stack of presents, snowflakes and a red ribbon adorn the cup, which are all placed with a large amount of white space. Starbucks is encouraging customers to get creative and fill it in with their own colors.
"We hope they'll color it in to represent what the holidays means to them," said Leanne Fremar, a creative director at the company.
Starbucks said it started working on the design in January and decided to go with a color-in version because it said many customers liked to draw on them. The Seattle-based chain said most of its nearly 5,000 U.S. locations will have colored pencils available for customers to borrow.
Customers are divided over the new design and the concept of coloring-in the cups, but overall the responses are positive.
The sleeves are adorned with the message "Give Good," encouraging customers to "celebrate all the good we give to each other and our community." According to Starbucks, giving good "can be as small as someone opening the door for you, or recognizing the people that enrich your life—your child's teacher, a caregiver, a family friend."
Along with the cups, of course, come the return of their signature holiday beverages. Starbucks is saying goodbye to Pumpkin Spice and hello to Peppermint Mocha, Chestnut Praline and Caramel Brulée Lattes.