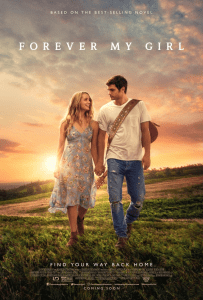 Just in time for Valentine's Day, the upcoming film 'Forever My Girl' is a must see movie for anyone who believe in romance and love enduring all things.
Based on the best selling novel by Heidi McLaughlin, 'Forever My Girl' tells the story of music super-star Liam Page (Alex Roe) who left his bride, Josie (Jessica Rothe), at the altar choosing fame and fortune instead. However, Liam never got over Josie, his one true love, nor did he ever forget his Southern roots in the small community where he was born and raised. When he unexpectedly returns to his hometown for the funeral of his high school best friend, Liam is suddenly faced with the consequences of all that he left behind.
The film also features original country music performed by a slew of artists, including CMA New Artist of the Year nominee Lauren Alaina, Travis Tritt, and Alex Roe.
Watch the trailer here. 'Forever My Girl' releases in theaters January 19, 2018.