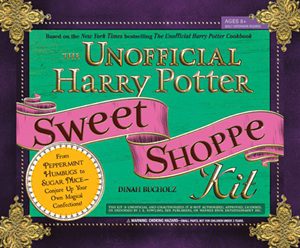 Butterscotch Brew. Treacle Fudge. Mmmmmmmmmmm…
Harry Potter aficionados recognize those names as they've undoubtedly dreamed about JK Rowling's imaginary confectionary creations. Who hasn't wanted to pop a Peppermint Humbug into their mouth? Well, here's your chance. "The Unofficial Harry Potter Sweet Shoppe Kit" by Dinah Bucholz is out now and it's the closest thing you're going to find to a Diagon Alley candy store. There are 35-easy to make recipes inside as well as a bunch of candy molds so you can make your own frogs, brooms, owls, and horcruxes (okay, that last bit was a joke, but making your own chocolate horcruxes would be pretty daggum cool).
This entertainment editor is hoping to whip up a couple of these recipes in anticipation of the final Harry Potter film which (gasp!) hits theaters in just two weeks!
Grab your own copy of "The Unofficial Harry Potter Sweet Shoppe Kit" here!