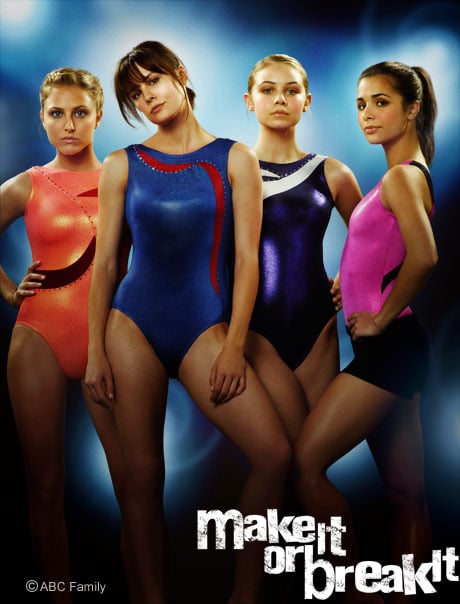 Chastity pledges and promise rings are all the rage on ABC Family's hit shows (even if some teens are also having sex on those very same shows). Between a high school club called "Real Love Waits" on 'Pretty Little Liars,' and the Christian/woman mentor for girl gymnasts, Summer, on 'Make It Or Break It,' you can find chastity talk all throughout the network's Tuesday night line up.

Though, on 'Make It Or Break It,' story lines to do with waiting, saving sex for marriage, and pledges for purity have been a long-time theme since the beginning of the series' first season. The Christian actress,
Candace Cameron Bure
, (yes that's Kirk Cameron's younger sister), who plays Summer, is behind this aspect of the show. She's not only explicitly Christian in beliefs, practices, and talk as Summer, but she manages to do so without being (too) heavy-handed about it.
Most interesting for the beginning of season two is the following: Summer is falling in love with Sasha, the gymnastics coach, who is neither a Christian nor is he interested in saving sex for anything other than now. So, Summer is conflicted, both about her feelings for a nonChristian guy, as well as the prospect that they don't really share the same beliefs about anything, especially not sex (though on one episode Sasha comes around and allows Summer to give the Rock girls a chastity talk since they aren't allowed to date anyway). I'm curious to know where this relationship/attraction will lead, if anywhere, and if part of this storyline will involve either Summer convincing Sasha to go to church with her or convincing herself it's okay to date someone who isn't Christian.
And on subject of the no-dating rule at The Rock, three of the star gymnasts just pledged no boyfriends, no dating, and no sex–at least until after the 2010 Olympic Games–and put promise rings on each other's fingers to remind themselves of this pledge. Not exactly the evangelical way of doing things since the girls didn't promise themselves to Jesus and instead promised themselves to each other and Olympic gold, but still, they took pledges and are now sporting rings!
Whether the rings will do much to halt them on the boys-front for long is another question. Regardless, 'Make It Or Break It' is about as interesting and diverse in its attitudes about teens and sex as
'The Secret Life of the American Teenager.'