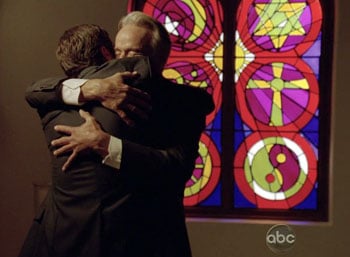 Six years ago, when Oceanic Flight 815 first crashed, the word "purgatory" was tossed around a lot. Viewers and, at times, even the survivors themselves thought they were already dead and the Island was a temporary place of punishment. They had been brought to the Island to be tested for all their misdeeds in the "real" world, as preparation for "moving on" to either heaven or hell.
Even though the "Lost" producers denied the Island was purgatory, they must have been influenced by the theory. While the Island itself wasn't a literal purgatory, it was certainly a figurative one–it was a place where each plane survivor was challenged and shaped by a series of physical, emotional, and spiritual trials that refined them into better (or, in some cases, worse) people. The Island was a place for changes, choices, and second chances in order to prepare them for a life beyond it, whether back in the "real" world or in the "spirit" world.
The last ten minutes of the series finale were a revelation: the Sideways world viewers had assumed to be real was actually a mystical place, a "limbo" where at some time in the indefinable future, everyone who had Island connections to each other had died. The figurative Island "purgatory" prepared them for this place of "limbo" where no one was aware of their connections to each other until Desmond. Once most people regained their memories–Jack being the last, which was fitting since he was always the most stubborn–it was a powerful reunion as (almost) everyone gathered in the church Eloise once used to find the Island. There, Jack reunited with his father who gently pointed out that he was alive in the same way Jack was alive: they had both passed away long ago into the spirit world and were waiting to move onward. There was no longer a "now."

In the background of the room Jack and his father spoke was a stained glass window with six symbols representing a major religion: Islam, Hinduism, Buddhism, Judaism, Christianity, and Taoism. On the shelves and walls surrounding them were statues of Mary and Buddha, crosses and rosaries, and paintings of the Star of David and Vishnu. The mix of religious symbols and icons represented unity and cohesion; no one was divided from or shut out of a place of redemption and renewal. This was fitting since the Islanders gathered in the sanctuary came from different religious and cultural backgrounds, but they were united and reunited through their love, loyalty, and friendship with each other.
When Christian Shephard addressed the reunited Islanders, he revealed "limbo" was a special place they had all chose to create in order to find each other so that they can move on together. As one Shephard was reunited with the flock he protected on the Island, another Shephard prepared everyone to enter a place with no troubles, pain, or uncertainty. He moved through a door flanked by two angel statues, a door where a bright golden light invited everyone to a world of ultimate peace and rest for the soul. The light mirrored "the warmest, brightest light" from the Island's source, except this light was better, not worse, than death and was available without repercussion.
Back on the Island world, as Hurley and Ben become the new guardians of the Island, Jack finds a place to finally rest after choosing to fulfill his role as the Island's last Messiah. After successfully restoring the Island, Jack lies down to rest one last time as he watches the Ajira plane fly to safety. He closes his eyes and is finally at peace, until the moment when he can be reunited with his friends in the better world we know he will enter: Heaven. At last, those who needed redemption, forgiveness, and happiness the most found it together, and together they would pass into a light where no darkness could ever reach them again.
Read More About Lost: