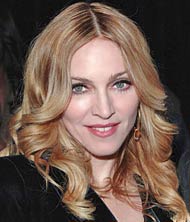 Oh, Madonna. Is there any day that does not bring news of your efforts to adopt children or Kabbalah, news of your concerts' set constructors being injured on the job, photos of your incredibly thin arms that prove you might or might not be anorexic, etc? Today's news is a little less shocking than purported anorexia or on-set injuries or African adoptions: Madonna's taking her writing career–previously manifested in a series of Kabbalah-inspired children's books–andbranching out into journalism.

"How My Life Changed," Madonna's article for Israeli daily Yediot Achronot will premiere Friday (check back with us then for an excerpt/translation) and will focus on her religious awakening 14 years ago, when she "realized fame and fortune were not the end but only the beginning."
Madonna isn't Jewish but during her study of Kabbalah, Jewish mysticism, she famously changed her name to
mine
Esther. Now that Madonna's a journalist, are you confused about how to tell me and Madonna apart? Let me break it down: while we are both writers named Esther and have been to Israel before, only one of us has concerts planned there for September and has managed to land a piece in an Israeli newspaper. Oh yeah, and I'm the one without adopted children and a front-row seat at the Kabbalah Center.
Stay tuned for an excerpt from Madonna's essay, coming Friday.