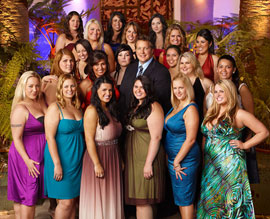 It may have already been dubbed "The Fatchelor," but "More to Love," FOX's new reality show that sets out to prove that "love comes in all shapes and sizes," transcends its shortsighted, condescending nickname. In fact, it does the impossible: Provides a fresh take on the dating reality show genre and giving FOX the opportunity to produce reality tv with, dare I say it, heart.

Produced by Mike Fleiss, who brought audiences the slim, well-coiffed women and square-jawed, six-pack men of "The Bachelor," the show stars Luke Conley, a 26-year-old, 6'3″, 330 lb., sub-contractor/real estate investor, and his search for the perfect woman, who doesn't happen to be a perfect size 2. Or as the publicity materials explains, this one-time college football player "is searching for one curvy Cinderella to take on the romantic adventure of a lifetime."
According to most statistics, the average American woman is now a size 14 and the CDC reports that 66% of U.S. adults over 20 are overweight or obese. While there are arguments to be made about whether a size 14 is a healthy size or if super-thin and healthy are synonymous as media seems to instruct, there is no argument to be made about voluptuous gals not being deserving of the fairy tale romances their size 2 reality show counterparts get. It's refreshing to see these confident, non-skinny minnie, real people working it.

But there are also heart-breaking stories of rejection in past relationships and tales of weight-related lack of self esteem. These tales are compelling, and make "More to Love" more emotionally engaging than typical reality fare (what woman can't sympathize?), but it seems that the women have farther to fall if they don't receive the coveted promise ring than the not-soon-to-be-dateless beauties on other shows. Do you ever feel really sorry for those first few rounds of women not awarded a rose on the "Bachelor?" Not really. But last night's first elimination was, no pun intended, gut wrenching.

My only real issue with the show: every time a participant was identified, her weight was included. Do we really need to see that? Are we putting together a fantasy football league here? Although, it was nice to see that Luke's weight was prominently stated as well.
In the end though, it's the sincerity and empathy of Luke and the ladies that make this show a winner. He genuinely understands what these women have been through and how his decisions effect them. And while the passed-over women may bawl off-camera, they are generous to him upon their exit.
Yes, "More to Love" sums up the stature of those taking part in this reality show, but it is also a tidy review of the show itself.