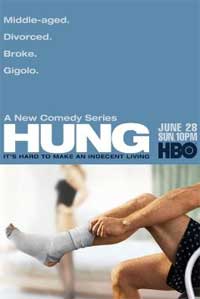 I still haven't quite forgiven HBO for canceling the brilliance of "Rome" only to perpetrate the anemic "John from Cincinnati" on viewers. Last year's launch of "True Blood" put a better taste in my mouth, and now I find myself forgiving HBO thanks to the revelation that is "Hung."
Dmitry Lipkin (executive producer and co-creator with Colette Burson) and Alexander Payne (executive producer) are the men who brought us flawed but lovable characters in the Emmy-nominated TV show "The Riches" and the Oscar-winning movie "Sideways."
Both men bring the same winning recipe for characters to the small screen. "Hung" is a drama about a Detroit-area high school teacher who has lost it all–his wife, the custody of his children, and his house–and how he will try anything to get it back. Sidelined by an injury at the start of his Major League Baseball career, Ray Drecker (Thomas Jane) parlayed his high school sports legend days into a job coaching high school basketball. But as his life and his confidence fall to shambles, he decides to fall back on the one asset he still has at his disposal–his large penis.
"Hung" may sound like "Californication" since both shows seem to say that for men, when everything is falling to pieces, it will all be ok if you're well endowed. Or as a male friend of mine put it, "It's so ingrained in men to believe that if you've got a big penis, everything is fine. When all else is failing, being successful in bed is at least a temporary win."
Yet unlike "Californication's" Hank Moody (David Duchovny), Ray is a genuinely good guy, not some highly intelligent artist battling demons. Ray's not taking pleasure in his horizontal career move to prostitution. Instead, he's doing whatever he can, in a horribly depressed Michigan economy, to make some money so he can retain custody of his kids and provide them with the small things in life.
Thomas Jane embodies the complex emotions of Ray so perfectly and precisely, that you forget he was ever in "The Punisher." Every indignity Ray faces, from asking his ex for money to having his first client reject him, you feel what he feels. Every small victory, such as being able to give his Goth son money to attend a concert, you also cheer for him. The rest of the players are just as well cast, from Jane Adams as the earthy poet who has slept with Ray in the past and who is now acting as his prosaic pimp, to Anne Heche as his bitter ex-wife.
So after the fireworks are over this Fourth of July weekend, hang around for "Hung."
The "Hung" premiere re-airs this Sunday, July 5 at 10:00 p.m. on HB0.