As was to be expected, now that overnight singing sensation Susan Boyle has won over the hearts of the "Britain's Got Talent" judges–as well as almost anyone who's seen her performance–many are speculating that the show's producers are going to give her a makeover for the rest of the show.

In an interview with CNN's "American Morning" today
Boyle refused to say
whether she'd take them up on the offer.
Nevertheless, thanks to the wonders of Photoshop,
Boyle has been given a virtual makeover
on the website DailyMakeover.com.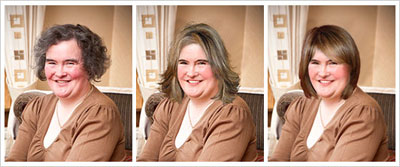 Personally, I'm digging the second look, where her hair is layered, her eyebrows are thinned out, and she has soft, subtle makeup. Maybe if the 47-year-old adopts a look like this, she won't have to wait too much longer
for her first kiss.
What do you think about the new looks? What would you change about the new singing star? Or, do you think she looks great just the way she is? Post your thoughts below.