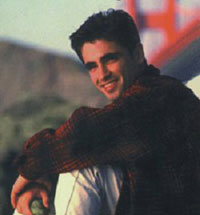 Pedro Zamora, the HIV-positive, AIDS activist from MTV's "The Real World: San Francisco," broke new ground when he made the courageous decision to have his life televised and become the "face of AIDS" for a generation. Unfortunately, the new MTV Films movie based on his life and time on the reality show, written by "Milk" Oscar-winner Dustin Lance Black, doesn't quite live up to the man himself.

The first scripted entertainment produced by Bunim/Murray, the team behind the "Real World" empire, provides an odd experience for the viewer so acquainted with the documentary-lite of the reality genre. Having watched the most intimate moments of these peoples' lives in our living room, it's now strange to see them being portrayed by actors. Although, hats off to the casting director who found the actors who portrayed Pam Ling and Puck.
Spanning Zamora's childhood in Cuba to his horrifically ironic death on the night of the telecast of RWSF's final episode, the film suffered from a lack of pacing. It was simply too slow; it didn't demand to be watched until the last 45 minutes when Alex Loynaz's portrayal of a now frail, and soon-to-be-non-verbal, Zamora is absolutely heartbreaking. And "Six Feet Under's" Justina Machado as Pedro's sister Milly is wonderful in her own right, but simply amazing in intimate scenes with Loynaz.

Released as a kick-off to STD Awareness Month, the film verges on hagiography at times, but, overall, it's a truly affecting and stern reminder to us all that AIDS is still a very serious issue. (In fact, 1 in 5 people infected with HIV are ignorant of their status.) Through his work on the lecture circuit and his appearance on "The Real World," Zamora educated the world of the early 90s and, hopefully, this film will give another generation of MTV viewers a face to put on the AIDS epidemic in a day and age when AIDS isn't always front page news.