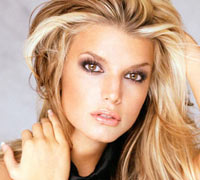 Reason #759 to hate John Mayer.
According to sources who spoke with the New York Post's Page Six, When Mayer and Simpson were dating, he was really with her for her looks and preferred it when she was quiet.
John used to tell Jess all the time, 'I'm really attracted to your spiritual side,' " a friend tells us. "He'd tell her that every time she opened her mouth to speak. It was a nice way of basically saying, 'Just sit there and be pretty, and don't ruin it with talk.' The sad thing is she started to tell people, 'I'm working on being more spiritual,' and then just sit there quietly."
I think it's safe to say that Simpson's interest in spirituality is genuine, unlike so many in the entertainment industry. Late last year the Baptist singer/actress (she actually got her start in gospel music) told Marie Claire that she was even "contemplating" taking a course in religion.