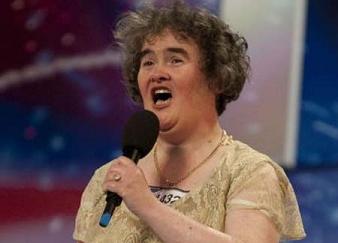 The evening and morning news shows–as well as 5 million YouTube viewers–are abuzz over a lesson we all need to learn. And the first live audience was enthusiastically willing to do so, as their judgmental laughter and eye-rolling turned into spontaneous and enthusiastic applause and outright cheers!

Susan Boyle is a 47-year-old charity worker from West Lothian, Scotland. It's a place known for great golf and pleasant locals who go about their business relatively quietly. It's a long way from Hollywood.
As she was interviewed by Simon Cowell on "Britain's Got Talent," everything about her stage presence–from her dress to her hairstyle to her choice to avoid make-up to her age–seemed to say this was going to be one of those Gong moments for the show.
This CNN clip of her performance
shows some wonderful before and after pictures of the audience members. Before the song, it was obvious they didn't expect much. Nor did Simon. Miss Boyle said her goal was to become a professional singer. "Why hasn't it worked out so far," he asked. Her confident, poised and cheerful response should have given us an idea of what was next.
I've never been given the chance before, here's hoping it'll change," she beamed.
And then…wow!
An audience ready to laugh and ridicule became synchronized in their amazement, applause, cheers, and instant respect for the gifted woman singing before them.
Piers Morgan gave her "the biggest 'yes' of his career!" It's possible she'll go a long way in the competition. And I hope she does, because she is a living example of one of things I absolutely despise about our media-driven culture. The idea that women need to be young, thin, tabloid-friendly, and discovered by the time they're 25 is an unhealthy as it is foundationless. There are so many gifted people who hold no hope of ever being discovered for their talents. They go undiscovered except for their close friends and perhaps some church attendees. And it shouldn't be that way. And we know it.

That is why I was inspired not only by her song, but by the crowd's reaction. Everyone loved it! They loved her! They were touched by her raw talent, her beautiful voice, and became instant fans. The part about each of us that is quick to judge is also quick to respond to excellence and beauty. We should be quicker to look for the beauty in people, and I'm not sure our media-driven culture trains us to do that.
I will continue to hope that shows like this provide a stage for the many, many Miss Boyle's in Britain, America and around the world. Everybody wins when someone like her steps forward!